Amplificator Devialet 200

ATENŢIE: Produsul Amplificator Devialet 200 nu mai este disponibil la AVstore.ro.
Acest lucru se datorează de cele mai multe ori faptului că producătorul Devialet a încetat să mai fabrice acest model sau l-a înlocuit cu unul mai performant.
Prezentare generala Amplificator Devialet 200
EXPERT
AUDIOPHILE EVOLUTIVE SYSTEM
The ultimate audiophile system
Devialet Expert is the ultimate audiophile system, for the most discerning of music lovers.
Well above and beyond an ordinary amplifier, Devialet reinvents and combines for the first time all of the key components of expert playback (preamplifier, amplifier, DAC, streamer, phono stage) in a single and extremely thin slab.
Your Devialet Expert is unlike any other: set each of the thousands of possible configurations for a unique musical experience.
Regardless of the source. Regardless of the speakers.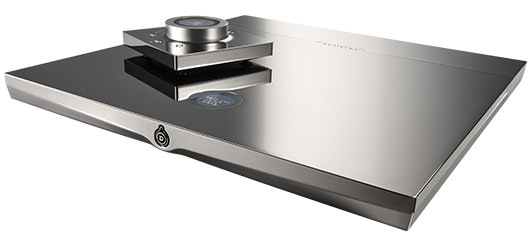 Unmatched performance
Devialet technologies reinvent each step of the musical signal chain for never before achieved levels of performance.
Pure sound. Explosive dynamics. Absolute silence. Perfect audiophile playback, completely transparent. A rare emotional experience.
The performance delivered by Devialet Expert is the best ever measured, under actual usage conditions * :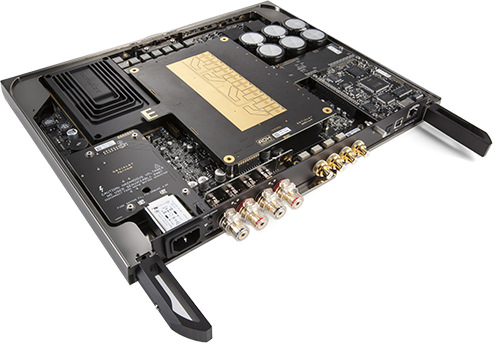 Devialet inventions
ADH® analogue-digital hybrid amplification, SAM® system for real-time adaptation of the signal transmitted to the speakers, free, regular updates using the EVO® platform, HD audio stream (wired or wireless) via AIR®, DAC Magic Wire®, RAM® Phono stage... Devialet Expert is an engineering gem.
All Expert systems incorporate all of Devialet's audiophile technologies. 88 patents. 45 awards. The most award-winning audio system of all time.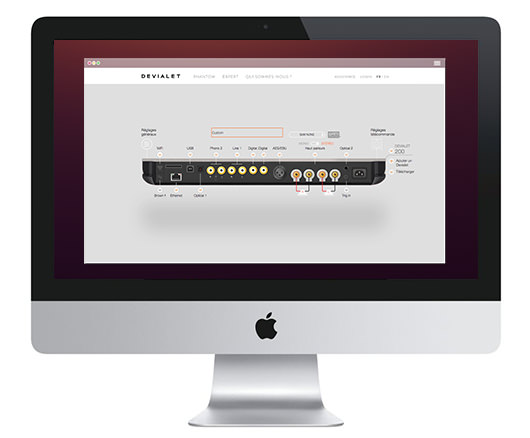 Your Devialet Expert unlike any other
Vinyl turntable, CD player, tuner, computer, smartphone, tablet, NAS, online music services, television : the Devialet Expert system elevates all of your music.
The Configurator enables you to adjust with absolute precision each setting of your audiophile installation. From defining active sources to setting the specifications of your phono cell, create a system unlike no other in the world.
A unique listening experience, whatever your preferences may be
Regardless of your source and regardless of your speakers, Devialet Expert renders your audiophile setup breathtaking. From the most delicate of turntables to the highest quality file of your digital library, Devialet Expert allows you to rediscover all your music.
COMPUTER

CD

VINYL

MOBILE / TABLET

TELEVISION

ALL SPEAKERS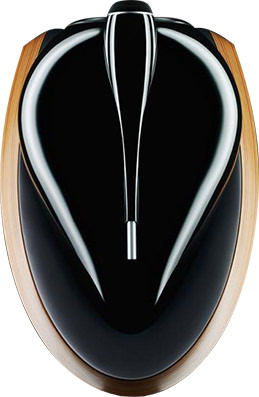 Speaker Active Matching SAM®
For the first time, your speakers operate at peak performance levels while being perfectly protected.
No speaker models are exactly the same. Devialet Expert sends asignal that is precisely adapted to their acoustical architecture. Displacement, driver excursion, acceleration, speed... with the SAM® technology, the Devialet Expert system has perfect knowledge of how your speakers behave.
472 speakers
can already benefit from the revolutionary SAM technology
Discover the SAM Ready speakers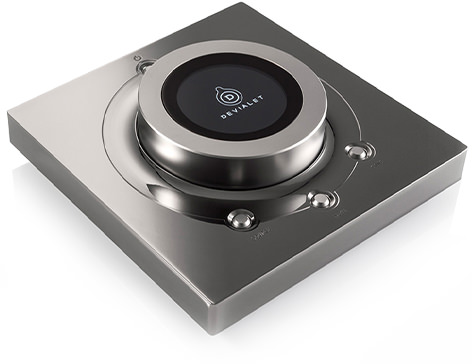 The sensoriality of audiophile refinement
A technological gem, the fully omnidirectional Devialet remote enables you to control your installation with the tips of your fingers, with no latency.
A joyful experience.
Specificatii tehnice pentru Amplificator Devialet 200
Link producator: http://en.devialet.com/expert/#models/expert-range/le-200/
Alte caracteristici:
Advanced phono stage
ELECTRICAL POWER SUPPLY:
Universal 80-265Vac – 50/60Hz
Power cable provided adapted to the country
Patented single stage switching mode topology
High power level: 600W continuous, 3000W peak
High output with power factor correction (PFC)
High resiliency to hazards potentially encountered on distribution networks : brownouts, quick transients, overloads
INPUTS / OUTPUTS:
2.4GHz 802.11 b/g/n Wi-Fi input for the Devialet AIR universal streamer
Formats supported: 16-bit/44.1 kHz PCM to 24-bit/192 kHz PCM
RJ45 10/100 Mbps Ethernet input for the Devialet AIR universal streamer
Formats supported: 16-bit/44.1 kHz PCM to 24-bit/192 kHz PCM
USB Audio 2.0 asynchronous input/output
Formats supported:
16-bit/44.1 kHz PCM to 32-bit/192 kHz PCM
DSD64 1bit/2.822400MHz and 1bit/3.072000MHz
Special characteristics:
Very low latency
Bi-directionality for digitisation of the active source
S/PDIF TOSLINK optical connector:
Formats supported: 16-bit/44.1 kHz PCM to 24-bit/192 kHz PCM
3.5mm mini-jack S/PDIF optical + RS232 connector:
Formats supported:
PCM 16bits/44.1kHz jusqu'à 24bits/96kHz
Device control via the bidirectional RS232 protocol up to 115200 bauds (documentation available via the configurator)
RCA 1 & RCA 2 connector (selected via the configurator)
1 or 2 coaxial S/PDIF digital inputs
Formats supported:
16-bit/44.1 kHz PCM to 24-bit/192 kHz PCM
DSD64 1bit/2.822400MHz and 1bit/3.072000MHz
1 S/PDIF coaxial (RCA1) digital output
Formats supported: PCM 24bits/48kHz/96kHz/192kHz
Multi-room use and monitoring loop
Pre-amplified analogue output
Set or variable volume
Output level up to 4 Vrms
Stereo/mono/left/right mixing
Available active filtering
WM8740 D/A convertor operating at 24 bits/192 kHz
Compatible with subwoofer, headphone amplifier, monitoring loop
May be activated / deactivated via remote control
RCA 3 & RCA 4 connectors (selected via the configurator)
Line-in stereo analogue input
24-bit/96 kHz or 24-bit/192 kHz sampling
T.I. PCM4202 A/D convertor
Accepts voltages up to +/- 10V
Maximum recommended level: 4 Vrms
Phono level stereo analogue input
24-bit/96 kHz or 24-bit/192 kHz sampling
T.I. PCM4202 A/D convertor
Accepts voltages up to +/- 100mV
Maximum recommended level: 15mVrms
Advanced conversion stage
1 or 2 coaxial S/PDIF digital inputs
Formats supported:
16-bit/44.1 kHz PCM to 24-bit/192 kHz PCM
DSD64 1bit/2.822400MHz and 1bit/3.072000MHz
3.5mm mini-jack trigger connector
Speaker output:
Patented ADH® (Analog Digital Hybrid) hybrid amplification core
4 mm banana plugs or fork connectors
Maximum power of 2 x 200 Wrms under 6Ω
Adjustable from 30 Wrms to 200 Wrms via the configurator
Compatible with all speakers, from 2Ω to 16Ω
Short-circuit protection
Available active filtering
THD+N (harmonic distortion) at full power: 0.001%
SMTPE IMD (intermodulation distortion): 0.001%
SNR (signal-to-noise ratio): 130dB (unweighted)
Thermal distortion: below measurement threshold
Output impedance: 0.001Ω
Passband: DC–87kHz (-3dB), DC–60kHz (-1dB), DC–30kHz (-0.1dB)
PHONO STAGE
Cells supported: MM/MC
MM sensitivity of 1mVRMS at 15mVRMS
MC sensitivity of 100 μVRMS at 5000 μVRMS
256 combinations for the resistive/capacitive charge of the cells
Stereo/mono/left/right mixing
13 equalisation curves available
Specific menu for dynamic adjustment of all these settings
PREAMPLIFIER & MAIN DIGITAL/ANALOGUE CONVERTOR:
Patented Magic Wire Digital / Analogue Converter, D/A T.I. PCM1792
Unique high-precision MasterClock with very low jitter: 2ps rms
Conversion of all inputs into 24-bit/192 kHz
Built-in DSD / PCM conversion
SAM profile via configurator
Available active filtering on all analogue outputs via configurator
Volume control in increments of 0.5 dB
Volume adjustment range: -97.5 dB to +30.0 dB
Bypass/pass-thru mode available input by input
Balance adjustment
Tone control: bass +/-18 dB, treble +/-18 dB with variable frequency cut-off via configurator
ON-BOARD INTELLIGENCE:
SD card connector for software updates and configurations
3 SHARC DSPs (400 MHz)
1 x 16 MHz RISC processor
4 x 40 MHz RISC processors
1 x 64 MHz RISC processo
OMNIDIRECTIONAL RADIO REMOTE CONTROL:
Chassis carved out of a single aluminium block
Black chrome finish
Dimensions: 114 mm x 114 mm x 34 mm (l, w, h)
Weight: ? Kg
Requires 3 AAA batteries (1.5V LR03), provided – service life of a set of batteries: 2 years
No peering required
Ultra responsive, latency < 3ms
Includes Devialet AIR software, free iOS and Android applications Optional wall mounting bracket 2-year warranty (3 years of additional warranty coverage when you register your Devialet on the site) (http://fr.devialet.com)
Dimensiuni:
383mm x 383mm x 40mm (l, w, h)
Greutate:
5.9 kg
Putere RMS:
2x200 Watts 6Ω
Raport Semnal/zgomot:
Signal-to-noise ratio: 130 dB
THD:
THD+noise 0.001%
REVIEW-URI PENTRU Amplificator Devialet 200
Momentan produsul Amplificator Devialet 200 nu are nici un comentariu din partea utilizatorilor. Fii tu primul care adauga un comentariu.
Subiecte de pe AVstore.ro/blog/ care au legatura cu Amplificator Devialet 200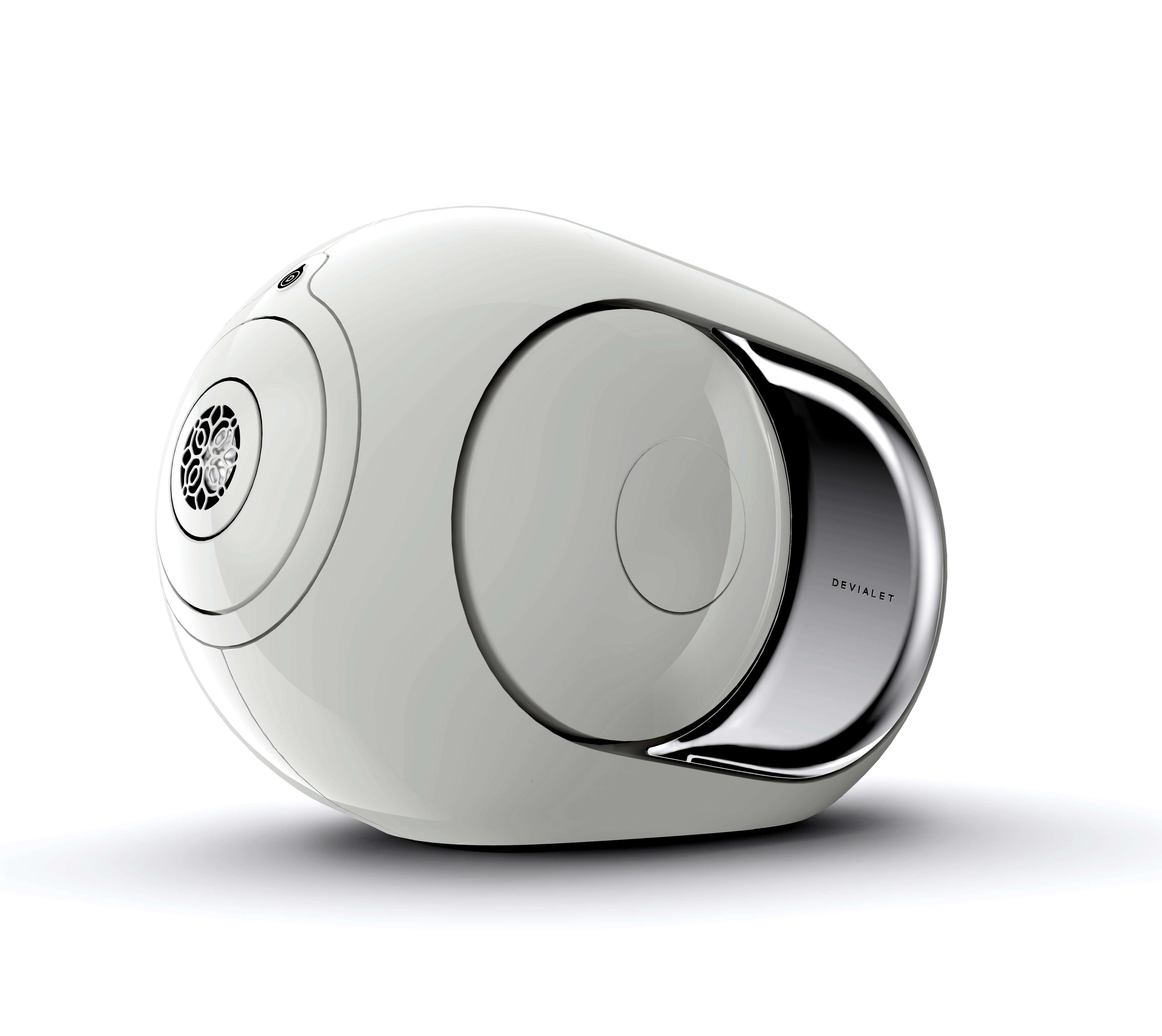 DEVIALET design si tehnologie frantuzeasca la AVstore.ro
Suntem mandri sa va aducem la cunostinta ca incepand cu 1 Octombrie 2015 AVstore este unicul distribuitor Devialet in Romania si ne face placere sa va anuntam ca produsele marcii vor fi prezente in permantenta pentru testare in showroom-ul nostru. Va asteptam sa fiti uimiti. Povestea Devialet a inceput in urma cu 12
DE CE SA ALEG AVSTORE.RO?
La AVstore.ro cumperi la preturi PROMO, poti plati in rate si ai livrare GRATUITA pentru comenzi peste 300RON in reteaua Fan Courier.
Vezi specificatii tehnice, review-uri si pareri despre Amplificator Devialet 200 (Devialet 200).
Disclaimer: Echipa AVstore.ro încearcă să menţină acurateţea informaţiilor la Amplificator Devialet 200 dar rareori acestea pot conţine mici inadvertenţe, ex: accesorii neincluse în preţ, specificaţii tehnice diferite, informaţii neactualizate despre preţ şi stoc. Ne poţi contacta oricând pentru a clarifica eventuale nelămuriri. Nu uita să menţionezi în corespondenţa ta numele exact al produsului - Amplificator Devialet 200