Amplificator Yamaha A-S501
Disponibil in stoc

Negru

. Poti comanda acum!
Livrare

GRATUITA

in Romania (*)
Culori disponibile:


Pachete PROMO ce contin Amplificator Yamaha A-S501
Prezentare generala Amplificator Yamaha A-S501
High sound quality circuit design based on the ToP-ART (Total Purity Audio Reproduction Technology) concept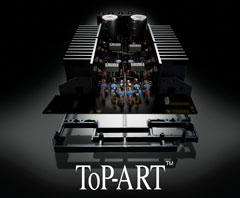 ToP-ART Design and ART Base Ensure Optimum Sound When processing and transmission of the audio signal is simple and direct there is less chance of it being affected by noise and distortion. Yamaha's amplifier design technology called ToP-ART features an I/O (input to output) Direct Symmetrical Design, with left and right channels organised in a straight, symmetrical layout for highest signal purity. In addition, the ART (Anti-Resonance and Tough) Base bottom chassis and a solid centre bar provide high-rigidity support and vibration damping. These Yamaha design innovations contribute to this amplifiers' rich audio reproduction with abundant musicality.
High Quality Parts for Outstanding Audio Performance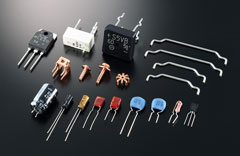 Custom-made power transformer, custom-made block capacitors, two direct signal path speaker relays, one-point grounding system, aluminium-extruded heat sinks and other top-quality parts effortlessly handle demanding audio signal conditions. The quality of each individual part, as well as how they work together, basically determines the sound quality of any component. Yamaha uses only very high quality parts, carefully selected and tested.
Created by Yamaha's Rich Experience and Tradition, and High Technological Expertise
Yamaha, with a long history of over 125 years as a musical instrument maker, also has a high reputation for HiFi components. The A-S501 is created by taking advantage of this rich experience and high technological expertise. Based on the concept of "Natural Sound", for reproducing all music as it really sounds, and built with scrupulous care from circuit design to basic sound production, even though an entry model it reproduces high sound quality and musically rich sound.
Pure Direct Mode for Greater Sound Purity
The Pure Direct mode causes the music signals to travel the shortest possible circuit route, bypassing the buffer amp and the tone, loudness and balance controls to virtually eliminate any signal degradation for the purest sound quality.

Continuously Variable Loudness Control

The A-S501 also feature a new analogue loudness control on the front panel that uses electronic volume for higher sound quality, which lets you adjust the loudness effect as desired. Separate from the overall volume, this controls the balance of the low- and high- frequency sounds, providing full tonal range at any volume level, compensating for the natural loss in the human ear of high and low frequencies at soft levels.
Gold-plated Terminals

Gold-plated terminals ensure a high quality connection that prevents signal loss. The A-S501 have Gold-plated speaker terminals and RCA (CD, Phono) and coaxial terminals.
Digital Audio Input for TV and/or Blu-ray Player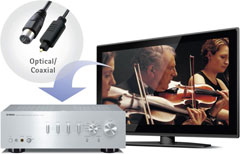 The A-S501 is equipped for digital audio input with both optical and coaxial terminals. The optical is for receiving audio from a TV, and the coaxial for receiving audio from a Blu-ray player. The audio stays in the digital domain, giving you pure, pristine dynamic sound for all your entertainment sources, from sports and other programmes to movies and concerts.
Connection for YBA-11 Bluetooth Wireless Adapter
With the YBA-11, you'll be able to stream music wirelessly from a Bluetooth capable mobile phone or a PC to the Network receiver. Thanks to the digital connection and aptX® audio coding algorithm, you'll enjoy wireless music streaming with optimum sound quality. You can also conveniently power the YBA-11 via the DC-out connection on the rear panel of the amplifier.

Speaker A, B or A+B Selection and Speaker Terminals for Two Systems

You can connect two separate speaker systems in different rooms and switch between them, or have them both playing at the same time. There are four terminals, so by just pushing a button, you can switch speakers to match the sound source.
Subwoofer Terminal
A terminal for connecting a subwoofer is provided, allowing you to increase the bass output of your system for a more powerful sound with better overall sound quality.
Phono MM Terminal
You can connect a turntable with an MM phono cartridge to play vinyl records. This lets you enjoy not only CDs, but also analogue record sound from an amp with the latest digital/analogue technology.
Simple yet Sophisticated Design

With a beautifully simple and unique design inherited directly from Yamaha's HiFi audio components, this amplifier also boast an easy-to-operate button layout. The aluminium front panel has a richly textured silver hairline finish. The control knobs are also of the same luxurious construction as used on our top-end models.
Remote Control with Clean, Simple Design

The clean, simple design of the remote control provides easy-to-understand one-hand operation. The easy-to-use design makes it simple to adjust song volume and order. The unit has a sophisticated looking hairline finish that matches the design of the amplifiers. You can also use the remote to control a Yamaha CD player.
Rotary Encoder Input Selector with LEDs
The rotary encoder makes it quick and easy to select input sources. The luxury hairline finish material offers a nice tactile feeling. LEDs clearly show which source is selected, so you can easily switch sources even in a dark room.
Auto Power Standby Function

The amplifier has a power management function that detects when it hasn't been used for a long time (about 8 hours) even though the power is on, and automatically shifts it into standby mode. So even if you forget to turn it off, power consumption will be minimised.
Specificatii tehnice pentru Amplificator Yamaha A-S501
Link producator: http://europe.yamaha.com/en/products/audio-visual/hifi-components/amps/a-s501/?mode=model
Alte caracteristici:
ToP-ART (Total Purity Audio Reproduction Technology) and high quality parts
- I/O (input to output) Direct Symmetrical Design
- ART (Anti-Resolution and Tough) Base
- Custom-made power transformer / 12,000uF block capacitors / Aluminum-extruded heat sinks
120W x 2 (max), 85W x 2 (RMS) high power output
Pure Direct Mode for Greater Sound Purity
Continuous Variable Loudness Control
Gold-plated speaker terminals and RCA (CD, Phono) and coaxial terminals
Digital audio inputs for TV or Blu-ray Player
Connection for YBA-11 Bluetooth Wireless Adapter
Simple yet sophisticated design (aluminium front panel and knobs)
Auto Power Standby
Damping Factor 240
Dimensiuni:
435 x 151 x 387 mm
Greutate:
10.3 kg
Putere RMS:
Minimum RMS Output Power (8 ohms, 20 Hz-20 kHz) 85 W + 85 W (0.019% THD)
Maximum Power (4 ohms, 1kHz, 0.7% THD, for Europe) 120 W + 120 W
Raport Semnal/zgomot:
10 Hz-100 kHz +/-1.0 dB
Sensibilitatea de intrare:
99dB (input shorted, 200 mV)
THD:
0.019% (50 W/8 ohms)
ACCESORII SI PRODUSE COMPLEMENTARE
REVIEW-URI PENTRU Amplificator Yamaha A-S501
Nota
(4.4)
bazata pe 7 aprecieri
Pamfil la 14-02-2015 (18:14)
Voi pune doua comentarii. Primul: Egalizorul nu poate fi folosit. Depresie maxima !!!
Pamfil la 14-02-2015 (18:34)
Al doilea comentariu: Splendid. Perfect !!! +/- 0.5 dB !!! 20-20kHz chiar se simt prin comparatie. Pamfil (ante-scriitorul) a scris de egalizor. Sunt de acord ca nu trebuie sa limitezi libertarea de decizie. Dar 501 nu are nevoie de egalizor: LOUDNESS continuu pana la - 30dB pe 1kHz e formidabil. Highly recommended !!! Bonus: servo motor pe volum, actionat de telecomanda. Daca ai copii, ii faci fericiti :)
apendragon la 20-02-2015 (20:09)
Exceptional !!! De cand l-am luat, urechea m-a fortat sa schimb si boxele. De ce ?! Pentru ca nu mai tineau pasul. De unde stiu ca nu mai tineau pasul ?! De la casti. Ce casti ? Secret ! Bine, hai, Audio Tehnica A500X.
Ator la 14-07-2015 (10:41)
Achiziţionat recent la pachet cu boxele Dali Zensor 3. Sunet curat, dinamic, bogat în detalii şi echilibrat, adaptat la mai toate genurile de muzică, acest amplificator subliniază excelent vocea, înaltele şi mediile fără însă ca basul să lipsească (are însă şi ieşire pentru subwoofer în caz că doriţi un bass mai "nervos"). Recomandat a se asculta la un volum suficient de ridicat pentru a "da" tot ce poate. Nu distorsionează nici la volume mai mari dacă sursa de muzică este de calitate (flac-uri dar chiar şi mp3-uri cu bitraturi mari). După ore în şir de audiţii aproape că nu s-a încălzit deloc! Mulţumiri băieţilor de la AVStore, keep up the good work!
Bogdan la 06-11-2015 (13:04)
Yamaha primeaza pe detaliile instrumentale.Este bine cunoscut pentru instrumente si nu contest clasa la care se ridica fata de concurenta. Acest amplificator este bine evaluat prestatie/pret. Reuseste sa satisfaca suficinte nevoi si cerinte cu o constructie abordata in stil clasic. Este de apreciat ca yamaha reuseste sa pune intr-un pachet robust atatea optiuni la un pret concurential.
Ion costel la 18-11-2016 (13:58)
Salut, Îl am de cca doi ani împerecheat cu heco aleva 402 si intradevar e deosebit. Am ales yamaha deoarece am folosit si înainte un model sh luat din târg, de care am f mulțumit. Recomand
Marius la 05-12-2016 (15:17)
Atac cu acest amplificator o pereche de incinte Elac FS 247 si sunt foarte impresionat de puterea pe care o dezvolta.Detalii pe instrumente si acustica impresionanta pe frecventele inalte.Foarte multumit si de modul de onorare a comenzii de catre avstore!!!
DE CE SA ALEG AVSTORE.RO?
La AVstore.ro cumperi la preturi PROMO, poti plati in rate si ai livrare GRATUITA pentru comenzi peste 300RON in reteaua Fan Courier.
Vezi specificatii tehnice, review-uri si pareri despre Amplificator Yamaha A-S501 (ref.28406).
Disclaimer: Echipa AVstore.ro încearcă să menţină acurateţea informaţiilor la Amplificator Yamaha A-S501 dar rareori acestea pot conţine mici inadvertenţe, ex: accesorii neincluse în preţ, specificaţii tehnice diferite, informaţii neactualizate despre preţ şi stoc. Ne poţi contacta oricând pentru a clarifica eventuale nelămuriri. Nu uita să menţionezi în corespondenţa ta numele exact al produsului - Amplificator Yamaha A-S501