14

reducere
Indisponibil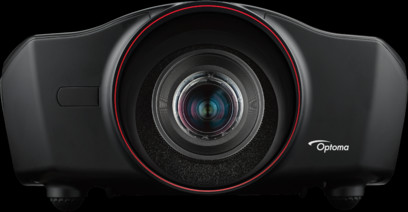 Videoproiector Optoma HD90+

ATENŢIE: Produsul Videoproiector Optoma HD90+ nu mai este disponibil la AVstore.ro.
Acest lucru se datorează de cele mai multe ori faptului că producătorul Optoma a încetat să mai fabrice acest model sau l-a înlocuit cu unul mai performant.
Prezentare generala Videoproiector Optoma HD90+
Enhanced image quality - 2nd generation
Fantastic Full 3D 1080p image quality made ultra-smooth with PureMotion
Total control - Advanced Colour Management System CMS+
Easy Installation - Lens shift & shorter throw ratio

Superior Performance
Successor to the award winning HD90. The HD90+ incorporates our second generation LED light source. The new LEDs further improve the image performance with consistent, breath-taking, perfectly balanced colours from the first time, every time and for years to come. Whether you just fancy a relaxed movie night or immersing yourself in adrenaline-pumping 3D, the HD90+ is the perfect choice for recreating the big-screen experience.

Optoma LED technology
Powered by 3 x LED's, the HD90+ delivers enhanced image quality with a wide colour gamut, superior colour saturation and outstanding brightness using separate Red, Blue and Green LEDs to produce intense yet accurate colours. Advanced switching of these LED's provides increased image stability that rivals the performance of 3 chip DLP projectors.

Performance is nothing without consistency. Unlike traditional lamp technology the LED illumination in the HD90+ provides consistent brightness and colour performance, so maintaining its out-of-the-box image quality throughout its lifetime and saving you from costly calibrations.

The benefits don't stop there. In many situations the perceived brightness of LED projectors can be up to twice the brightness of an equivalent lamp-based projector. Utilising this phenomenon, known as the Helmholtz-Kohlrausch (HK) effect, the HD90+ produces vividly intense colours. This enhanced brightness perception enables Optoma LED projectors to comfortably render screen sizes far higher than its ANSI brightness specifications would suggest. This allows the HD90+ to handle low levels of ambient light with less impact on image quality than lamp based systems.

Finally, the lamp-less LED illumination engine that powers the HD90+ does not require the inconvenience and cost of frequent lamp changes to maintain its optimal performance. It also doesn't need lengthy warm-up and cool down cycles before and after every viewing due to its almost instant start up and shut down times.

Precise colour
On start-up the HD90+ colour and white point and automatically calibrated to ensure the most accurate and consistent colour reproduction over its entire lifetime.

Full HD 1080p
1080p resolution gives you sharp and detailed images from HD content without downscaling or compression; perfect for watching Blu-ray movies, HD broadcasting and playing video games.

Dynamic black
Dynamic black smoothly adjusts the lamp output automatically, based on the brightness information of each frame; to create a stunning 600,000:1 contrast ratio. Bright scenes are crisp and clear, while dark scenes remain detailed with deep blacks which gives exceptional light and shade detail.

PureMotion
Using sophisticated frame-interpolation technology, advanced motion control processing eliminates motion blurring or image judder, even in high-speed action sequences.

UltraDetail
This technology ensures all the information contained in an image is faithfully reproduced on the screen giving a stunning crystal clear, pin-sharp picture.

PureColour
This mode makes it possible for the projector to reproduce more detailed shades of colour; to provide vivid, balanced colour for vibrant, natural looking images.

Colour Management System (CMS)
Display accurate life-like colours to best match your viewing environment. This unique feature provides you with the flexibility to fine-tune the colour settings to the Rec. 709 standard for optimal precision.

HDMI Link
HDMI Link lets you to turn on and off two or more HDMI-CEC capable devices using a single remote control.

2D to 3D conversion
See more in 3D with the built in 2D to 3D converter. This means live sport, TV and movies can be enjoyed in stunning 3D making you feel part of the action.

24p
Most movies are shot at 24 frames per second (fps). To preserve the purity of the original image, Optoma projectors can accept high definition sources at 24 fps to display movies exactly as the director intended.

Full 3D
Optoma projectors can display true 3D content from almost any 3D source, including 3D Blu-ray players, 3D broadcasting and the latest generation games consoles. Support for 144Hz rapid refresh rate provides ultra-smooth flicker free images.

Flexible Placement
The efficiency of the LED powered HD90+ produces less heat so less cooling is required, resulting in near silent operation. Therefore, the HD90+ can be installed closer to walls or ceilings or even built into a small enclosure offering previously unexplored installation options. The light weight 6.5kg and compact size of the HD90+ simplifies any installation.

Lens shift
The combination of Lens Shift and a wide 1.9x zoom range enables a wider range of projector placement possibilities. This remarkable combination makes it easier to position the projector in your viewing room and allows a wider range of screen size options.

USB-Power
Use the USB-Power to power an HDMI dongle, such as Google Chromecast or the Optoma WHD200 wireless HDMI device.

Wireless
Stream Full 1080p 3D content to your projector wirelessly; eliminating the hassle and extra cost of installing long cables, the WHD200 (sold separately) allows you to connect a Blu-ray™ player, set-top box, gaming console or AV receiver instantly.
Specificatii tehnice pentru Videoproiector Optoma HD90+
Link producator: http://www.optomaeurope.com/projectordetailshc.aspx?PTypeDB=Home%20Entertainment&PC=HD90%2b#Specification
Tehnologie de afisare:
LED DLP
3D Ready:
Da
Clasificare in gama producatorului:
Home Cinema
Durata de viata lampa proiectie (Standard / ECO):
20000 ore
Lens shift:
Vertical: +/- 60%, Horizontal: +/-10%
Luminozitate:
1600
Zoom / Focus:
1.25x
Contrast:
600 000:1
Throw ratio (distanta proiectie / latimea imaginii):
1.22 - 1.52:1; projection distance 0.8 - 10m; image size : 0.76 - 7.67m (30" - 300") Diagonal 16:9
Rezolutie nativa:
1080p Full HD (1920 x 1080)
Corectie keystone (reglaj trapez):
±30° Vertical
Caracteristici specifice:
In the box
Lens Cover, AC Power Cord, Back-lit IR
Remote Control with Batteries, Quick Start
Card, Warranty Card
Conexiuni:
Inputs
2 x HDMI v1.4a 3D, VGA (RGB/YPbPr),
Component, Video
Output
3D-Sync Out (3-Pin VESA),
2 x 12V Trigger, USB-A Power
Control
RS232
Nivel zgomot:
23db
Telecomanda:
Da
Alte caracteristici:
2D Compatibility
NTSC M/J, 3.58MHz, 4.43MHz
PAL B/D/G/H/I/M/N, 4,43MHz
SECAM B/D/G/K/K1/L, 4.25/4.4MHz
480i/p, 576i/p, 720p(50/60Hz),
1080i(50/60Hz), 1080p(50/60Hz)

3D Compatibility
Side-by-Side:1080i50 / 60, 720p50 / 60
Frame-pack: 1080p24, 720p50 / 60
Over-Under: 1080p24, 720p50 / 60

3D Viewing
Requires ZF2300 Starter kit & Glasses

Dimensions: 345 x 443 x 161.5mm
Weight 6.5kg
ACCESORII SI PRODUSE COMPLEMENTARE
REVIEW-URI PENTRU Videoproiector Optoma HD90+
Momentan produsul Videoproiector Optoma HD90+ nu are nici un comentariu din partea utilizatorilor. Fii tu primul care adauga un comentariu.
Subiecte de pe AVstore.ro/blog/ care au legatura cu Videoproiector Optoma HD90+

Home Cinema Experience
Cap.1 - Receiverul AV, inima cinematografului de acasa  Partea 1 Esti la mall in asteptarea ultimei parti din seria Star Wars; ai pandit cateva zile bune biletul ideal in mijlocul salii pentru o experienta unica de imersie sonora si cinematica, nimic altceva nu te multumea! Filmul incepe, entuziasmul creste si toata experienta este stricata de zgomot de floricele si nachos, susoteli indiscrete, telefoane neinchise si intarziati care trec prin fata ta cu
DE CE SA ALEG AVSTORE.RO?
La AVstore.ro cumperi la preturi PROMO, poti plati in rate si ai livrare GRATUITA pentru comenzi peste 300RON in reteaua Fan Courier.
Vezi specificatii tehnice, review-uri si pareri despre Videoproiector Optoma HD90+ (95.8SJ02GC0E).
Disclaimer: Echipa AVstore.ro încearcă să menţină acurateţea informaţiilor la Videoproiector Optoma HD90+ dar rareori acestea pot conţine mici inadvertenţe, ex: accesorii neincluse în preţ, specificaţii tehnice diferite, informaţii neactualizate despre preţ şi stoc. Ne poţi contacta oricând pentru a clarifica eventuale nelămuriri. Nu uita să menţionezi în corespondenţa ta numele exact al produsului - Videoproiector Optoma HD90+