Yamaha CX-A5100
Culori disponibile:



Contactează-ne pentru pret
Calitate absoluta, Realism absolut, Pre-Amplificator AV 11.2 - canale in topul seriei AVENTAGE.
Prezentare generala Yamaha CX-A5100

Support for the Latest Surround Format, DTS:X™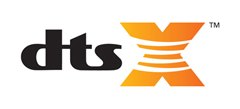 DTS:X™ is the next generation object-based, multi-dimensional audio technology from DTS.
Unbound from channels, DTS:X conveys the fluid movement of sound to create an incredibly rich, realistic and immersive soundscape - in front of, behind, beside and above the audience - more accurately than ever before. The combination of DTS:X and Yamaha AV receivers will fill the room with multidimensional sound that makes you feel as if you are right in the middle of the story unfolding on the screen.
*DTS:X™ playback capability will be available via future firmware update.


Support for the Latest Surround Format, Dolby Atmos®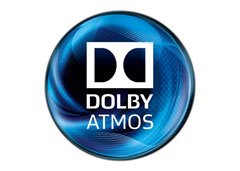 Enter a new world of sound with Dolby Atmos®. It transports you from an ordinary moment into an extraordinary experience with captivating, multidimensional sound that fills your room with amazing richness and depth. Music, people, and objects come alive in breathtaking detail and flow in precise choreography all around you, making you feel like you are truly there. The combination of Dolby Atmos and Yamaha AV receivers will fill the room with multidimensional sound that makes you feel as if you are right in the middle of the story unfolding on the screen.

Speaker Layout Patterns Designed for Dolby Atmos Playback


Yamaha provide multiple placement patterns for presence speakers that support Dolby Atmos, creating a sound field that's ideal for your setup. Any layout can be appropriately reproduced, including the three-dimensional space of CINEMA DSP as well as Dolby Atmos.
Furthermore YPAO R.S.C. which optimises the listening environment and fundamental high quality audio design takes full advantage of the detailed spatial localisation capability of Dolby Atmos.
The combination of Dolby Atmos and Yamaha AV receivers will fill the room with multidimensional sound that makes you feel as if you are right in the middle of the story unfolding on the screen.




Featuring the absolute latest technology.The 11.2 channel preamp that brings you new dimensions in sound reproduction

The CX-A5100 is our flagship AV preamp, featuring the latest versions of 3D surround formats, advanced network functions such as WiFi and Bluetooth® compatibility, and full 4K support with HDCP2.2 compatible HDMI for the 4K era. In combination with the MX-A5000 power amplifier, you can enjoy not only a premier 3D sound field CINEMA DSP HD3 11.2channel full-spec reproduction but also new dimensions of surround sound as found in the newest movie theatres — in your own home.




True sense of realism produced by the next-generation CINEMA DSP HD3, compatible with all the latest formats

The CX-A5100 supports the latest surround sound playback formats such as Dolby Atmos and DTS:X. In addition to conventional channel-based audio, it is possible to create a 3D space in which separate acoustic elements can move freely, giving a sensation of the motion of "objects" above the viewer's head that fully realises the filmmaker's intentions. What's more, the revamped CINEMA DSP HD3 features newly developed signal processing algorithms to increase their appeal even further. With three sets of high performance processors for CINEMA DSP, it is possible to maximise the theatre sound effect, accurately reproducing a new dimension of realism for a sound field with a rich sense of presence unlike any system you've ever experienced. And by supplementing the limited number of speakers in a home system with CINEMA DSP to create the effect of a movie theatre space with alarge number of speakers, you can experience a realistic cinema sound field with the sense of truly being immersed in a movie scene
.
33 DSP Programmes, Including 10 Introduced in the Flagship Z11 Receiver


The broad array of surround sound programmes, including 10 featured in the flagship Z11 receiver, features six Movie choices, including Spectacle for movies with strong visual and audio impact, Sci-Fi for SFX movies, Adventure to emphasise the sound of action movies, and Drama. Seven Entertainment programmes match the audio characteristics of sources such as sports, music videos, action games and roleplaying games. Compatibility with the Dolby Atmos and DTS:X sound formats means you hear the full potential of every movie and music source.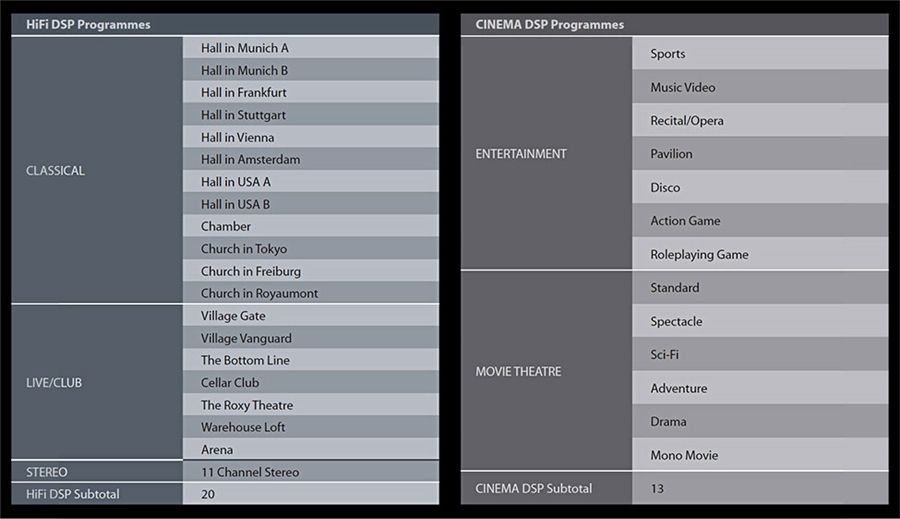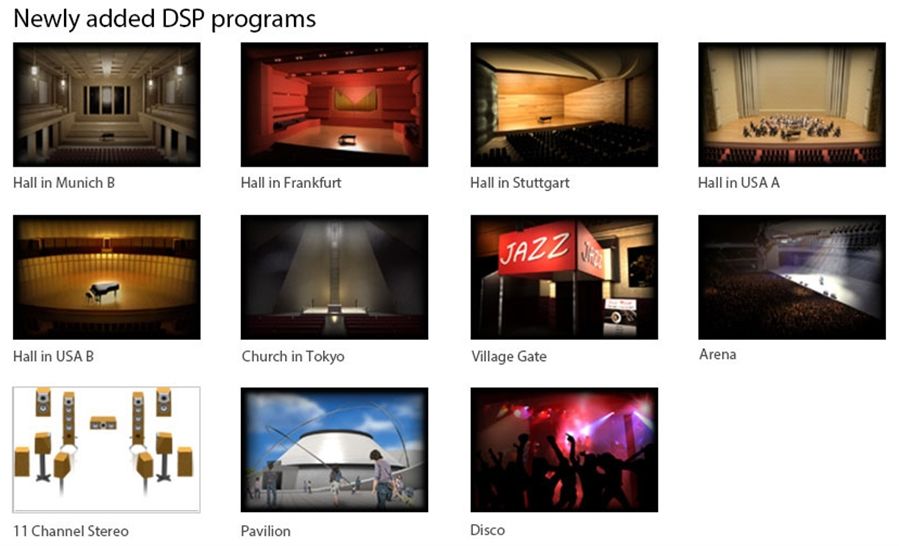 Enhanced – A New Cinema Sound Programme Developed on the 30th Anniversary of CINEMA DSP

With this year marking thirty years since the release of the first CINEMA DSP-1 unit in 1986, Yamaha has continued its history of innovation with the development of the Enhanced next-generation CINEMA DSP sound field programme installed in the CX-A5100, featuring a new sound field processing algorithm that further elevates its ability to process the motion and spatial representation data found in the latest audio-visual media including three-dimensional surround formats. Developed targeting cutting-edge movie theatre sound field technology equipped with multi-top speakers (multiple overhead speakers), Enhanced handles not only the rear surround field but also the front presence field and independent left and right fields (stereo), tracking sound source movement in all directions for uniquely uniform sound field creation not found with conventional programmes. The result is a natural sound field effect that follows every sound source, including objects present in the most modern formats, and delivers dynamic sensations of motion and spatiality that faithfully reflect the spirit of the filmmaker's vision.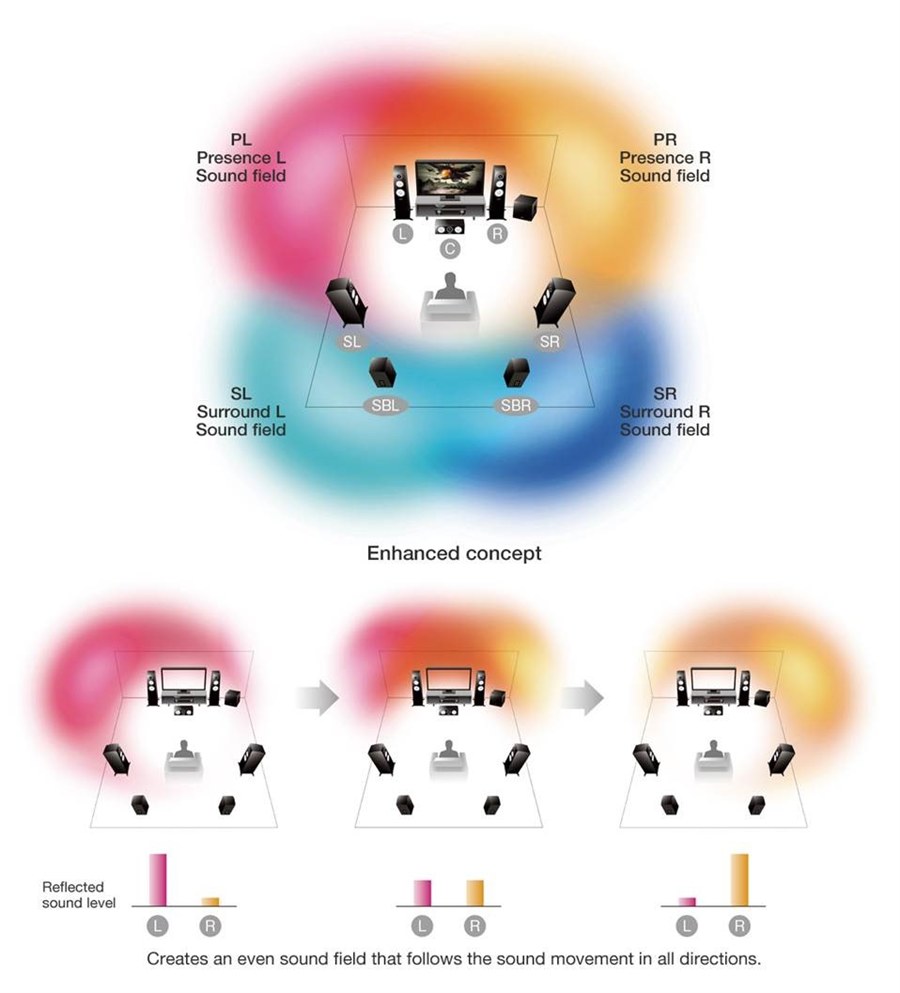 High Density Presence and Richly Detailed Sound Ensured by High Sound Quality Parts and Design

All channels use ultra high performance ESS ES9016 DACs, which provide 192kHz/32-bit compatible superior SN ratio and dynamic range, ensuring faithful reproduction from Blu-ray and other players, as well as from high resolution sound sources input through networks. Matched to the design of the DAC circuit, which achieves stable ground potential (DAC on Pure Ground), they provide high precision D/A conversion. A new Volume IC realises low noise and superior sound orientation, and a superior low jitter clock circuit is used for clear and vivid network audio. In addition, the internal design separates the power supplies to the analogue circuit boards, eliminating high frequency noise interference from the digital circuits. The shielded power supplies restrict noise radiation and the large power transformer minimises vibration.


YPAO-R.S.C Sound Optimisation with High Precision 64-bit EQ Calculation and Speaker Angle Measurement

YPAO analyses room acoustics and performs speaker angle measurements, then calibrates audio parameters to achieve the best sound atany of several listening positions. The height of the presence speakers is also measured, to optimise the 3D sound field. R.S.C. (Reflected Sound Control) corrects early reflections for studio-quality sound. YPAO also uses 64-bit EQ Calculation for realising the most natural room acoustics possible.YPAO 3D provides automatic sound parameter optimisation that maximises the 3D sound field effectiveness of CINEMA DSPHD3 as well as Dolby Atmos.



Specificatii tehnice pentru Yamaha CX-A5100
Link producator: https://uk.yamaha.com/en/products/audio_visual/av_receivers_amps/cx-a5100_g/index.html
Alte caracteristici:
Dolby Atmos® support
DTS:X™ support
AVENTAGE Concept 11.2-channel pre-amplifier
The Next-generation CINEMA DSP HD3, compatible with all the latest formats
Highly reliable balanced connections and high quality XLR terminals for long subwoofer cables
ESS 9016 DAC for all channels including front and rear presence channels
High density presence and richly detailed sound ensured by high sound quality parts and design
Specially designed high rigidity chassis eliminates the effects of vibration for greater sound purity
YPAO-R.S.C Sound optimisation with high precision 64-bit EQ calculation
MusicCast for audio enjoyment in every room
Wi-Fi Built-in and Wireless Direct compatible for easy network
Bluetooth for wireless music streaming and Compressed Music Enhancer for Bluetooth
AirPlay®, Spotify®*, Pandora®*, Napster®*, Tidal*, Deezer*, JUKE* music streaming service
*Music service availability varies by region.
DSD 2.8MHz/5.6MHz, FLAC/WAV/AIFF 192kHz/24bit, Apple Lossless 96kHz / 24-bit playback
Gapless playback compatibility allows play without interruption
AV Controller app for operating various functions from a smartphone or tablet
HDMI® (8 in / 2 out) with 4K Ultra HD full support, HDR Video including Dolby Vision and Hybrid Log-Gamma, and BT.2020
Yamaha video processing optimises video content
High-resolution Music Enhancer further heightens musicality from the original content
Advanced HDMI Zone Switching allows unprecedented AV switching to multiple zones
Versatile Zone control up to four Zones including party mode
Handy trigger control
Dimensiuni:
43.5 x 19.2 x 47.4 cm
Greutate:
13.5 kg
Acest produs poate avea şi următoarele denumiri:
Yamaha, CX, A5100
REVIEW-URI PENTRU Yamaha CX-A5100
Momentan produsul Yamaha CX-A5100 nu are nici un comentariu din partea utilizatorilor. Fii tu primul care adauga un comentariu.
DE CE SA ALEG AVSTORE.RO?
La AVstore.ro gasesti un pret excelent, poti plati in rate si poti alege din intreaga gama de Preamplificatoare Yamaha.
Vezi specificatii tehnice, review-uri si pareri despre Yamaha CX-A5100 (ref.36159).
Disclaimer: Echipa AVstore.ro încearcă să menţină acurateţea informaţiilor la Yamaha CX-A5100 dar rareori acestea pot conţine mici inadvertenţe, ex: accesorii neincluse în preţ, specificaţii tehnice diferite, informaţii neactualizate despre preţ şi stoc. Ne poţi contacta oricând pentru a clarifica eventuale nelămuriri. Nu uita să menţionezi în corespondenţa ta numele exact al produsului - Yamaha CX-A5100