400

reducere
Indisponibil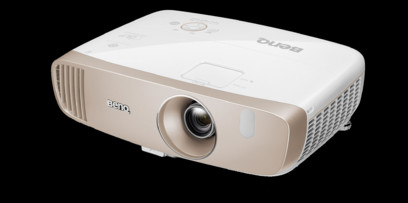 Videoproiector BenQ W2000 Resigilat

ATENŢIE: Produsul Videoproiector BenQ W2000 Resigilat nu mai este disponibil la AVstore.ro.
Acest lucru se datorează de cele mai multe ori faptului că producătorul BenQ a încetat să mai fabrice acest model sau l-a înlocuit cu unul mai performant.
Prezentare generala Videoproiector BenQ W2000 Resigilat
W2000 takes the home cinema experience to a new level thanks to BenQ technology that achieves the Rec. 709 standard for high-definition color reproduction. W2000 is precisely calibrated for cinematic color with Rec.709, utilizing a 6X RGBRGB color wheel with precision-tuned coating and color segments to replicate stunningly true colors and a superb viewing experience.

KEY FEATURES
Rec. 709 HDTV Standard for Finest Cinematic Color
Vertical Lens Shift for Extra Installation Freedom
Side Projection with 2D Keystone
Two Enhanced Chamber Speakers (Powered by MaxxAudio) with Audio Enhancer
Ultra-Modern Design & Low Acoustic Noise of 27dBA

Cinematic color as Big as Life in Your Living Room
With a harmonious combination of luxurious gold color and elegant curves, W2000 delivers modern aesthetics and complements today's lifestyles. And in addition to ultramodern design, wireless video transmission and lifelike cinematic color with Rec. 709, the newly enhanced airflow and fan architecture in W2000's thermal system reduces acoustic noise to 27dBA in Eco mode, the lowest fan noise in its class, to provide a more pleasant viewing experience.

Rec. 709 HDTV Standard for Finest Cinematic Color Authentic HDTV Color Accuracy
Rec. 709 is the international HDTV standard to guarantee accurate replica of cinematic color as the director intended.

With 6X Speed RGBRGB Color Wheel, W2000 is calibrated for cinematic color modeled on the HDTV standard, Rec. 709, to deliver refined colors that are the truest possible reproduction of the original palette of your video.

How Our Projectors Are Designed for Rec. 709
Only displays that conform to Rec. 709 can reproduce colors correctly in all images through an entire movie. While most projector manufacturers choose a saturated color tone bias to increase colorfulness, resulting in color accuracy loss, W2000 achieves the Rec.709 color standard. The process of building a projector includes many variables such as lenses, lamps and color wheel coating. We work relentlessly to close any gaps from those variances and to make our projectors perform exactly to Rec. 709. This is because we believe that colors matter to our users when enjoying movies as they were meant to be seen.

Hardware Design
BenQ's ISF-trained expert engineers tried more than 20 different combinations of color segments and color wheel coating, the factors that directly affect color gamut and brightness of a projector.

Software Optimization
To maximize color accuracy, the process of software optimization involved adjusting the blacks, whites and greys towards D65 defined by Rec. 709. And the three primary and three secondary colors were adjusted one by one, until they were as close as possible to the references on the Rec. 709 color gamut.

Production Line Quality Control
Three color adjustment stations in the production line perform final checks on every single unit of our Rec. 709 projectors. Using exclusive BenQ color adjustment procedures, we make sure each projector is manufactured according to the Rec. 709 color standard, and BenQ quality engineers perform final color tests on each projector built to ensure Rec.709 performance.

Spectacular Full HD 1080p Visual Performance
Treat your eyes the brilliance of a 1080p Full HD optimized optical system crafted with only pure glass lens elements. Enjoy HD content with the finest clarity and sharpness – from Blue-ray and video games to live broadcasts.

CinemaMaster turns any room into a world-class home theater with audio-enhancing technology sure to please even the most critical movie enthusiasts. With 20-watt speakers housed in resonant sound chambers plus BenQ Audio Enhancer powered by MaxxAudio, your sound booms with Waves' breakthrough algorithms used by Hollywood studios, to dramatically boost bass and treble for serious stereo sound.

Independent 3D Color Control for All 6 Primary Colors
BenQ's unique color management tool allows you to fine-tune the gain, saturation and hue of six primary colors (R/G/B/C/M/Y) individually. So you can customize your colors to mimic nature, to simulate other galaxies, and to everything in between.

Professionally Calibrated Visual Entertainment
With the Imaging Science Foundation's highly reputed ISFccc® calibration built-in, the W2000's image and color performance can be customized for any space, along with preset light balance modes for day and night.

High Contrast, Razor-Sharp Image
As the world's No.1 best-selling DLP projectors, BenQ living room projectors create real-world performance with an ANSI Contrast Ratio that significantly surpasses that of non-DLP projectors for powerfully clean and crisply detailed images.

Class-Leading High Fill Factor :
Featuring class-leading High Fill Factor, the W2000 shines more light into each pixel, improving definition for small text and fine details, and eliminating "screen door effect", for beautifully rendered images.

Superior Short Throw Projection with 100" of Big-Screen Enjoyment at 2.5 Meters
Maximize thrills in minimum space with BenQ home projectors that require as little as 2.5m to project stunning 100" pictures. Bring big-screen theater entertainment into whichever room you like.

Big Zoom for Big Pictures in Any Space
A staggering big zoom function maximizes available space for a range of throw distances and big-screen entertainment without the hassle of complicated installation.

Side Projection with 2D Keystone
Horizontal and vertical keystone correction eliminate trapezoid effect when the projector is placed at an indirect angle, allowing you to set up in a corner or on a side table to free up valuable space for active games or comfortable lounging.

Flexible Vertical Lens Shift
Vertical Lens Shift provides flexibility when installing or setting up the projector. Images can be shifted up and down without suffering a decrease in image quality.
Specificatii tehnice pentru Videoproiector BenQ W2000 Resigilat
Link producator: http://www.benq.com/product/projector/w2000/specifications/
Tehnologie de afisare:
DLP
3D Ready:
Da
Lentile:
F = 2.59 - 2.87, f = 16.88 - 21.88 mm
Clasificare in gama producatorului:
Home Cinema
Boxe integrate:
Da
Durata de viata lampa proiectie (Standard / ECO):
3500 / 5000 / 6000 hours
Luminozitate:
2000
Putere lampa:
240W
Zoom / Focus:
1.3:1
Contrast:
15000:1
Throw ratio (distanta proiectie / latimea imaginii):
1.15 - 1.5 (100" @ 2.5m)
Rezolutie nativa:
1080p Full HD (1920 x 1080)
Redare culori:
1.07 Billion Colors
Corectie keystone (reglaj trapez):
Auto Vertical & Manual Horizontal ± 30 degrees
Caracteristici specifice:
Projection Offset 105% ± 2.5%
Lens Shift Vertical : +10%
Resolution Support VGA(640 x 480) to WUXGA_RB (1920 x 1200) *RB = Reduced Blanking
Horizontal Frequency 15 - 102KHz
Vertical Scan Rate 23 - 120Hz

3D Support and Compatibility Frame Sequential: Up to 720p
Frame Packing: Up to1080p
Side by Side: Up to 1080i/p
Top Bottom: Up to 1080p
Conexiuni:
PC (D-Sub) x 1
Composite Video In x 1
Component Video In x 1
HDMI x 3
MHL x 2 (Share with HDMI-2 & HDMI-3)
Audio In x 1
Audio L/R In x 1
Audio Out x 1
Chamber Speaker 10W x 2
USB (Type A) x 1 (5V / 1.5A power supply)
USB (Type B) x 1 (Inside projector for WDP02 power supply)
USB (Type mini B) x 1 (Service)
RS232 x 1
DC 12V Trigger x 1
IR Receiver x 2 (Front & Top)
Nivel zgomot:
29 / 27 dBA
Telecomanda:
Da
Alte caracteristici:
Dimensions (W x H x D mm) 380.5 x 121.7 x 277 mm

Accessories (Standard)
Lens Cover
Remote Control with Battery
Power Cord (by region)
User Manual CD
Quick Start Guide
Warranty Card

Accessories (Optional)
Spare Lamp Kit
Ceilling Mount
Carry Bag
Wireless FHD Kit
DLP 3D Glasses
ACCESORII SI PRODUSE COMPLEMENTARE
REVIEW-URI PENTRU Videoproiector BenQ W2000 Resigilat
Momentan produsul Videoproiector BenQ W2000 Resigilat nu are nici un comentariu din partea utilizatorilor. Fii tu primul care adauga un comentariu.
Subiecte de pe AVstore.ro/blog/ care au legatura cu Videoproiector BenQ W2000 Resigilat

Home Cinema Experience
Cap.1 - Receiverul AV, inima cinematografului de acasa  Partea 1 Esti la mall in asteptarea ultimei parti din seria Star Wars; ai pandit cateva zile bune biletul ideal in mijlocul salii pentru o experienta unica de imersie sonora si cinematica, nimic altceva nu te multumea! Filmul incepe, entuziasmul creste si toata experienta este stricata de zgomot de floricele si nachos, susoteli indiscrete, telefoane neinchise si intarziati care trec prin fata ta cu
DE CE SA ALEG AVSTORE.RO?
La AVstore.ro cumperi la preturi PROMO, poti plati in rate si ai livrare GRATUITA pentru comenzi peste 300RON in reteaua Fan Courier.
Vezi specificatii tehnice, review-uri si pareri despre Videoproiector BenQ W2000 Resigilat (9H.I1J77.17E).
Disclaimer: Echipa AVstore.ro încearcă să menţină acurateţea informaţiilor la Videoproiector BenQ W2000 Resigilat dar rareori acestea pot conţine mici inadvertenţe, ex: accesorii neincluse în preţ, specificaţii tehnice diferite, informaţii neactualizate despre preţ şi stoc. Ne poţi contacta oricând pentru a clarifica eventuale nelămuriri. Nu uita să menţionezi în corespondenţa ta numele exact al produsului - Videoproiector BenQ W2000 Resigilat