130

reducere
Indisponibil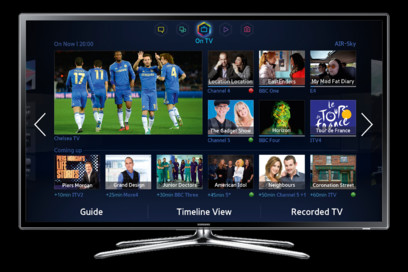 TV Samsung UE-40F6320

ATENŢIE: Produsul TV Samsung UE-40F6320 nu mai este disponibil la AVstore.ro.
Acest lucru se datorează de cele mai multe ori faptului că producătorul Samsung a încetat să mai fabrice acest model sau l-a înlocuit cu unul mai performant.
General presentation for TV Samsung UE-40F6320
Samsung LED FullHD UE-40F6320(March 2013), 102 cm, HyperReal, Clear Motion Rate 100, Smart TV, Web Browser, Wi-Fi built-in, Digital Noise Filter, Film Mode, DTS Studio Sound, DVB-T/C

Take your home entertainment to the next level with the Samsung LED TV Series 6. It guides you into an exciting world of highly engaging and super immersive content via its revolutionary Smart Hub. By gathering all of your favourite content into a single location, Smart Hub intuitively serves them up through a simple set of pages for you to enjoy. Now all the content you love can easily accessed through a single interface on your stunning TV.

An entertainment experience tailored to you
Choosing the right channel or finding the right movie doesn't have to be difficult; it should be easy. By understanding your entertainment preferences and viewing habits, S Recommendation† intuitively recommends content for you to enjoy. Waste no more time searching through the same TV line up or movies over and over, and watch shows that best appeal to you. The more you watch, the more the Smart TV understands you – there will always be something entertaining to watch.

The gateway to a revolutionary entertainment experience
Get in right where the action is. Samsung's Smart Hub creates the best environment for top notch entertainment. With immediate access to apps, videos and music, you will never feel lonely. Enjoy great apps from your Samsung Smart TV. Stay in the centre of your social circle with Smart Hub's social page and see your friends' favourite video clips through Facebook and Twitter. And even access photos, videos and clips on all compatible devices like a PC or a camera.

Discover your special moments at the highest picture quality
Enjoy the next level of picture quality with the new Samsung Smart TV. Samsung's Clear Motion Rate is able to generate clear, moving images through a combination of three factors: chipset, TV panel, and backlight. This new measure in motion control produces the clearest motion graphics through the backlight technology in the TV's panel. And for an even more refined viewing experience, features like Wide Colour Enhancer Plus and Full HD improve the quality of any image and uncover hidden details.

Stylish design for seamless and immersive viewing
Improve your viewing experience and your surroundings. The LED 6 Series is developed for enjoyment that goes beyond the screen. One Design brings an attractive premium look that will brighten your home, with a thinner bezel for a more expansive and immersive viewing. This is a TV that blends into your environment perfectly, so there's no distraction from your entertainment. Enjoy One Design that appeals to everyone in every way.

The Samsung's LED 6 Series enables your TV to wirelessly access and stream content from any Samsung compatible device, like a smart tablet. You can even plug your USB memory drive or HDD into the TV to enjoy your favourite movies, photos and music. Moreover, with the built in Wi-Fi, you can streamline your TV's connectivity capabilities without any external features.
Tehnical specifications for TV Samsung UE-40F6320
Diagonala (inch):
40
Tehnologie ecran:
LED
Diagonala:
102
Raport imagine:
16:9
Functie 3D:
Da
Rezolutie:
1920x1080
Contrast:
Mega
Sunet:
Dolby Digital Plus / Dolby Pulse
Dolby Studio Sound
DTS Premium Audio 5.1
3D Sound available
Down Firing + Full Range Speaker Type
10W x 2 Sound Output (RMS)
Alte caracteristici:
Full HD
200CMR
Smart TV
Browser Web
Wi-Fi incorporat
Smart Phone Remote Support
PVR Ready
Anynet+
AllShare
Samsung Smart View(clone view only)
Wi-Fi Direct
Digital Noise Filter
Film Mode
Connect Share(USB-movie)
Game Mode
Sports Mode
PIP
CI+(1.3)

Greutate:
Cu stand:10kg / Fara stand: 8.9
Dimensiuni:
Cu stand:934 x 620.1 x 264.8mm / Fara stand: 934 x 548.6 x 49.6mm
Dimensiune ambalaj:
1190 x 610 x 147mm
Acest produs poate avea şi următoarele denumiri:
UE-40F6320, UE40F6320
ACCESORII SI PRODUSE COMPLEMENTARE
REVIEWS for TV Samsung UE-40F6320
Momentan produsul TV Samsung UE-40F6320 nu are nici un comentariu din partea utilizatorilor. Fii tu primul care adauga un comentariu.
DE CE SA ALEG AVSTORE.RO?
La AVstore.ro cumperi la preturi PROMO, poti plati in rate si ai livrare GRATUITA pentru comenzi peste 300RON in reteaua Fan Courier.
Vezi specificatii tehnice, review-uri si pareri despre TV Samsung UE-40F6320 (40F6320).
Disclaimer: Echipa AVstore.ro încearcă să menţină acurateţea informaţiilor la TV Samsung UE-40F6320 dar rareori acestea pot conţine mici inadvertenţe, ex: accesorii neincluse în preţ, specificaţii tehnice diferite, informaţii neactualizate despre preţ şi stoc. Ne poţi contacta oricând pentru a clarifica eventuale nelămuriri. Nu uita să menţionezi în corespondenţa ta numele exact al produsului - TV Samsung UE-40F6320