Receiver Yamaha RX-A1020
Culori disponibile:



ATENŢIE: Produsul Receiver Yamaha RX-A1020 nu mai este disponibil la AVstore.ro.
Acest lucru se datorează de cele mai multe ori faptului că producătorul Yamaha a încetat să mai fabrice acest model sau l-a înlocuit cu unul mai performant.
Prezentare generala Receiver Yamaha RX-A1020
AVENTAGE model featuring construction designed to maximise sound quality with Anti Resonance Technology (A.R.T.) Wedge, Symmetrical Amp and Rigid Bottom Frame, as well as AirPlay for wireless music play, 4k upscaling for highest quality video, YPAO R.S.C, Dialogue Lift and Dialogue Level Adjustment, and 8 in/2 out HDMI.

AVENTAGE AV Receivers: Designed to Deliver the Highest Levels of Audio Performance

The AVENTAGE line of high-performance AV receivers is based on the audio design concept of providing a massive, full-bodied sound for movie sound effects and the accurate reproduction of music sources. By expertly harmonising traditional and advanced technologies, every factor that affects sound quality, from materials and parts to construction, layout, vibration damping (unique foot) and "fine-tuning" the sound, is handled with no other thought than to achieve the best possible audio quality. As a result, every AVENTAGE model has the ability to reproduce the most subtle details of high-definition sound, so that listeners can enjoy a truly high-class sound studio experience at home.
Anti Resonance Technology Wedge Helps to Ensure that Vibrations Do Not Affect Sound Quality

The Anti Resonance Technology (A.R.T.) Wedge is a fifth foot in the centre of the unit. It dampens vibrations from the power transformer, power transistors and heat sinks, as well as vibrations that might be caused by the sound from the speakers.
Aluminium Front Panel Offers Visual and Aural Benefits

All of the AVENTAGE components feature the same sleek, clean design, with an elegant aluminium front panel and silky touch volume/selector knobs. The aluminium front panel is used to effectively shield sensitive circuitry from external noise and electronic radiation generated by dimmer switches, fluorescent lighting, video monitors and so on. This ensures optimum sonic performance in the widest range of installation environments.
Symmetrical Power Amplifier Layout

This is just one of the many design details that all combine to create a superior receiver. The interior of the unit has been precisely planned, circuit-routed and built so that the left and right channels are physically and electrically isolated. This naturally maximises channel separation, but also greatly improves signal to noise ratio and also helps to achieve a wide, open sound stage.
High Quality Parts Allow Sound Tuning for Optimum Performance

Every single part in an AV receiver affects the sound quality. For the AVENTAGE models, we took extra time to find (or develop) exactly the parts we wanted, and to test them together in prototype units. This testing process allows our sound technicians to in effect "tune" the receiver's sound in order the achieve the highest performance possible.

Other Notable Audio Features

• 7-channel powerful surround sound
1,190W = 170W x 7 (4 ohms, 1 kHz, 0.9 % THD, 1 ch driven)
770W = 110W x 7 (8 ohms, 20 Hz-20 kHz, 0.06 % THD, 2 ch driven)
• HD Audio format decoding: Dolby TrueHD and DTS-HD Master Audio;Dolby Digital Plus and DTS-HD High Resolution Audio
• Heat sink with anti-vibration and anti-thermal properties
• Rigid chassis with additional bottom frames
• DAC on Pure Ground circuitry
• High speed thermal feedback power amplifier
• Ultra Low Jitter PLL circuitry helps optimise sound imaging
• Detachable Power Cable for easier installation (also allows cable upgrade)
• Assignable amplifiers for bi-amp connection
• Intelligent assignable amplifiers for Surround Back - Front Presence or Zone 2
• Phono input for vinyl playback

4K Pass-Through and Upscaling Supports Latest High Resolution Video Formats
This AV receiver's HDMI input/output supports 4K video image pass-through. It also can perform 4K upscaling to boost a lower resolution image to super high-def resolution. This ensures compatibility with the latest super high resolution video formats.

HDMI with 3D and Audio Return Channel
3D means the receiver can handle 3D signal data. The Audio Return Channel function enables data to be sent and received via the same HDMI cable, so you can hear the sound from the TV via a single HDMI cable, with no need for an extra optical cable.

High Quality Video Processing with Edge Adaptive Deinterlacing
In ordinary deinterlacing, pixels in areas of movement are interpolated by upper and lower ranges. This causes jaggies in diagonal lines. Edge adaptive deinterlacing detects the direction of the line and interpolates the pixels optimally.

Other Notable Video Features

• 4K / full HD 1080p video upscaling from analogue and HDMI input
• HDMI: 8 inputs (1 on front) and 2 outputs (simultaneous)
• Supports Deep Colour (30/36 bit), x.v.Colour, 24Hz Refresh Rate and Auto Lip-Sync compensation

Network Functions

This AV receiver provides a variety of network functions that enable you to access more sources and also enhance operation. You can connect the receiver to a PC to enjoy Internet Radio and operate your system via Web Browser Control. The AV Controller app (from iTunes App Store or Google play) lets you control various functions from your iPod, iPhone, iPad or Android phones.
AV Controller App for Easy, Convenient Operation
This AV Receiver lets you use the Yamaha AV Controller app that is downloadable from the iTunes App Store or Google play to control power on/off and volume, select input and DSP modes and operate other functions from an iPod, iPhone, iPad or Android phones. A tablet version is also available.


AirPlay Allows Streaming Music to AV receive
This AV receiver supports AirPlay, which means they can accept wireless music streaming from iPod touch, iPhone or iPad, as well as from iTunes on Macs or PCs. This makes it easy to enjoy music from your mobile devices or computer on your home theatre system. You can use view metadata such as song title, artist name as well as album art* via AV receiver's on-screen display.
*Some models don't support album art display.

USB Digital Connection for iPod, iPhone and iPad on the Front Panel
A USB port on the front panel allows convenient connection of an iPod/iPhone/iPad, which also charges when connected. Because the digital signal from the iPod/iPhone/iPad is transmitted directly to the AV receiver, there is no signal loss or interference, so you enjoy the best possible sound quality. In addition, you can use the receiver's remote control unit to operate the iPod/iPhone/iPad music playback functions.

YPAO-R.S.C. (Reflected Sound Control) Sound Optimisation with Multi-Point Measurement
YPAO analyses room acoustics and measures various speaker characteristics, then calibrates audio parameters to achieve optimum sound at any of eight listening positions. It employs Reflected Sound Control to correct early reflections for studio-quality sound. It also provides DSP Effect Normalisation, which varies the CINEMA DSP parameters according to the reflected sounds.

Extra-convenient SCENE PLUS
The SCENE PLUS function simplifies operation by providing one touch power-on along with selection of the desired source and the appropriate DSP programmes. SCENE PLUS offers a choice of 12 SCENE selections, four of which can be assigned to the second zone in a multi-zone system. SCENE PLUS can be selected from the front panel, remote control, GUI and even from the AV Controller app.

HDMI CEC for Easy Operation
Another benefit of HDMI is the availability of CEC functionality. When the unit is connected to a CEC compatible TV, it will turn on and off together with the TV, and you can use the TV remote to control the volume. CEC also provides advanced functionality with other components. For example, you can use the receiver's remote unit to control player functions like Skip and Stop.
All connected devices must be HDMI CEC compatible. Some CEC compatible TVs/players may not work.

Input Selection in HDMI Standby Through Mode
When the AV receiver is in HDMI Standby Through mode, the input source (Blu-ray™ Disc player, game console, etc.) for viewing on the monitor can be changed via the remote control. There's no need to turn on the AV receiver in order to switch sources.

Advanced Multi-Language GUI On-Screen Display
Yamaha's latest Graphical User Interface has a high resolution display with clear, easy-to-use menus and also includes a selectable Status Bar that shows input source, volume level, DSP mode and audio format. The GUI provides a choice of seven languages: English, French, German, Japanese, Russian, Spanish and Chinese, and can be displayed over both normal and 3D pictures.

Intelligent Amp Assign
Intelligent Amp Assign automatically assigns amplifier channels to certain speakers, depending on what functions are selected. For example, in a 7.1-channel system, when Zone 2 is off, all 7.1 channels will be used in the Main Zone. However, when Zone 2 is on, power to the two Surround Back channels will be directed to the two speakers in Zone 2, and the Main Zone will receive 5.1 channels of power. Similarly, when CINEMA DSP 3D is on, the two Front Presence speakers will be powered and not the two Surround Back speakers. When CINEMA DSP 3D is off, this situation is reversed. Thanks to Intelligent Amp Assign, there's no need to switch the speaker cables on the rear of the receiver—one more way Yamaha makes your life a little easier.

Other Notable Advanced Features

• HDMI front panel input for devices such as camcorders and digital cameras
• DLNA 1.5 certified
• Charging of iPod, iPhone and iPad via USB when AV Receiver is off
• iPod/iPhone/iPad song titles displayed in English and Western European languages on the front panel and on-screen display
• Ability to store and choose between two speaker setting patterns
• Flexibly assignable component video and optical/coaxial (except Video Aux) inputs allow a wide range of source components
• Audio Delay for adjusting Lip-Sync (0-500 ms)
• Newly designed learning remote unit
• Background Video feature (for tuner and Net)

HD Audio with CINEMA DSP 3D and Virtual Presence Speaker

CINEMA DSP 3D provides a wide, high and dense sound field. HD Audio format decoding lets you enjoy HD Audio sources. Virtual Presence Speaker delivers 3-dimensional sound without actual use of presence speakers.

Subwoofer Trim for Improved Sound Imaging
The Subwoofer Trim control enhances the low frequencies by avoiding overlap with the front speaker output. This will result in a cleaner, more focused sound stage while providing a seamless frequency response. When subwoofer frequency overlap occurs in conventional systems, the overall sound is "pushed" toward the subwoofer. Subwoofer Trim takes care of this by separating the low subwoofer frequencies cleanly, thus stabilising the front stage while providing a well-balanced enhanced bass sound.

Dialogue Lift and Dialogue Level Adjustment for natural dialogue and vocals
Dialogue Lift raises the sound of dialogue from the centre speaker to a position in the centre of the screen. Newly developed virtual dialogue lift achieves dialogue lift function even without the need for presence speakers. Dialogue Level Adjustment lets you control the volume of the vocal sound, so you hear movie dialogue and music vocals at the ideal level for clear, comfortable listening.

Compressed Music Enhancer
When music is encoded into a digitally compressed format like MP3, the frequency response suffers. Yamaha's Compressed Music Enhancer employs sophisticated digital signal processing using exclusive algorithms to restore what was lost, so the music always sounds the way it should.

Adaptive DRC (Dynamic Range Control)
Adaptive DRC automatically adjusts the dynamic range of the sound according to the volume level. This ensures that you hear clear dialog and vocals, and all sound effects at comfortable levels. There is no need to adjust the volume level as you listen; everything from whispers to big explosions will be heard clearly and comfortably at the same volume setting. It also tones down loud TV commercials, and is ideal for low-volume, late-night listening, when you do not want to disturb others.

Other Notable Surround Realism

• HD Audio decoding with CINEMA DSP 3D (17 DSP programmes)
• Virtual dialogue lift even without use of presence speakers
• Virtual Presence Speaker function for CINEMA DSP 3D surround without Front Presence Speakers
• Channel expandability with external amplifier (7-channel expandability, bi-amping)
• Adaptive DSP Level

[ Versatile Zone Control ]

• HDMI Zone B for audio/video streaming to another room (same content as main room)
• Zone 2 on/off and control on front panel
• Zone 2 video assign (Component, S-Video, Composite)
• System Backup / Recovery function
• Multi-channel output in main Zone plus 2-channel HDMI output in Zone B
• Zone mono, Zone volume, tone controls and balance
• Party mode

[ Eco-Friendly Design ] ECO mode lowers power consumption by 20%*
Yamaha's new ECO mode reduces power consumption by about 20%. It can be set from the top of the GUI menu.
* Compared to power consumption when ECO mode is off (Yamaha measurement).

Selectable Auto Power Down
Auto Power Down lets you save energy by selecting to turn off the power after 2, 4, 8 or 12 hours.

Low Standby Power Consumption
Yamaha makes its receivers eco-friendly with a low standby power consumption of 0.3W in IR Standby mode (4.5W in HDMI Standby Through mode, 2.2W in Network Standby mode).
Specificatii tehnice pentru Receiver Yamaha RX-A1020
Link producator: http://europe.yamaha.com/en/products/audio-visual/av-receivers-amps/rx-a1020_g/?mode=model
Putere RMS:
170W x 7 (4 ohms, 1 kHz, 0.9% THD, 1ch driven)
110W x 7 (8 ohms, 20 Hz-20 kHz, 0.06% THD, 2ch driven)
Dimensiuni:
435 x 182 x 432 mm
Greutate:
15.1 kg
Alte caracteristici:
AVENTAGE AV Receivers: Designed to Deliver the Highest Levels of Audio Performance
Aluminium Front Panel Offers Visual and Aural Benefits
Anti Resonance Technology (A.R.T.) Wedge helps to ensure that vibrations do not affect sound quality
Symmetrical Power Amp Layout and Rigid chassis with additional bottom frames
7-channel 1,190W = 170W x 7 (4 ohms, 1 kHz, 0.9% THD, 1ch driven)
770W = 110W x 7 (8 ohms, 20 Hz-20 kHz, 0.06% THD, 2ch driven)
Network functions such as AirPlay and AV Controller app
4K Pass-Through and upscaling for next-generation high resolution images
Front panel USB Digital Connection for iPod, iPhone and iPad
HDMI (8 in [1 on front] ) / 2 out) with 3D and Audio Return Channel
HDMI Zone B for audio/video streaming to another room
YPAO R.S.C. (Reflected Sound Control) sound optimisation with multi-point measurement
Dialogue Lift and Dialogue Level Adjustment for natural dialogue and vocals
Newly designed learning remote unit
Versatile Zone control such as Zone 2 on/off, Zone 2 video assign and Party mode
Advanced multi-language GUI on-screen display with album art (English, German, French, Spanish, Russian, Chinese and Japanese)
ECO mode operation for about 20% less power consumption
Acest produs poate avea şi următoarele denumiri:
AVENTAGE RX-A1020, RX A 1020
ACCESORII SI PRODUSE COMPLEMENTARE
REVIEW-URI PENTRU Receiver Yamaha RX-A1020
Momentan produsul Receiver Yamaha RX-A1020 nu are nici un comentariu din partea utilizatorilor. Fii tu primul care adauga un comentariu.
Subiecte de pe AVstore.ro/blog/ care au legatura cu Receiver Yamaha RX-A1020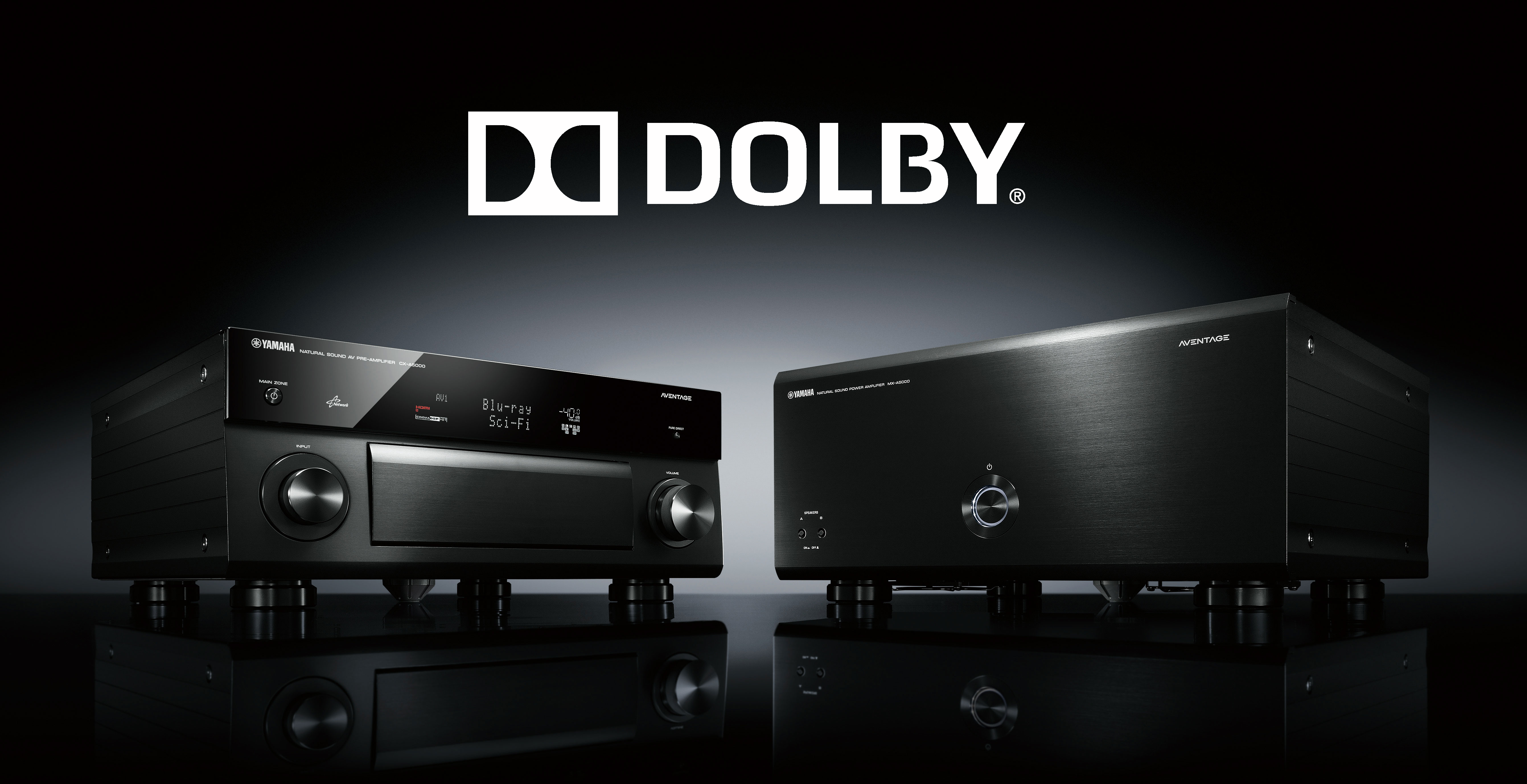 Tutorial formate surround Dolby
Un cinematograf privat in camera de zi, acesta este visul oricarui impatimit de filme. Traim intr­-o perioada in care progresul tehnologic in domeniul digital este urias, procesoarele de sunet sunt de la an la an mai performante, iar oferta in domeniul home-cinema este foarte variata. Ce este, de fapt, sunetul multicanal? Este o coloana sonora ce contine mai multe piste audio diferite si care, de obicei, insoteste un material video, un film, un concert, documentar s.a.m.d. Fiecare pista di
DE CE SA ALEG AVSTORE.RO?
La AVstore.ro cumperi la preturi PROMO, poti plati in rate si ai livrare GRATUITA pentru comenzi peste 300RON in reteaua Fan Courier.
Vezi specificatii tehnice, review-uri si pareri despre Receiver Yamaha RX-A1020 (REF20742).
Disclaimer: Echipa AVstore.ro încearcă să menţină acurateţea informaţiilor la Receiver Yamaha RX-A1020 dar rareori acestea pot conţine mici inadvertenţe, ex: accesorii neincluse în preţ, specificaţii tehnice diferite, informaţii neactualizate despre preţ şi stoc. Ne poţi contacta oricând pentru a clarifica eventuale nelămuriri. Nu uita să menţionezi în corespondenţa ta numele exact al produsului - Receiver Yamaha RX-A1020