13

reducere
Indisponibil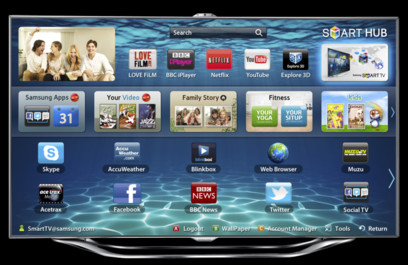 TV Samsung UE-40ES8000

ATENŢIE: Produsul TV Samsung UE-40ES8000 nu mai este disponibil la AVstore.ro.
Acest lucru se datorează de cele mai multe ori faptului că producătorul Samsung a încetat să mai fabrice acest model sau l-a înlocuit cu unul mai performant.
General presentation for TV Samsung UE-40ES8000
Experience the Future of Smart TV Now
Samsung Smart TV lets you find and control exciting content in new and unexpected ways. Accessing Apps, Signature Services and browsing are easy. Voice and gesture controls, face recognition, the Smart Touch Remote Control and the Smart View Mobile App all provide unique ways to interact with your TV. Enjoy an exceptional picture and a TV experience like never before. Smart Interaction – Smart Content – Smart Evolution.

Smart Touch Remote
Smart Touch Remote Control has a built-in microphone and track pad to navigate and control menus included in the TV.

Voice & Gesture Control
Use your voice and gestures to control select TV functions. Facial recognition logs you into the

Smart Hub.
Smart View Mobile App
Download the Smart View Mobile App on select Samsung phones and Tabs for yet another way to control the Smart TV.

New Signature Services
Stay connected to more entertaining experiences for everyone: Family, Fitness and Kids.

Web Browser & Search
Discover even more possibilities with full web browser, plus "search" for content across all connected services.

Samsung TV Apps
Watch, play and explore with a wide variety of Samsung Apps built for your TV.

Evolution Kit
Soon you will be able to update your Smart TV every year with the latest technology. Samsung's Smart Evolution Kit* completely reengineers your Smart Evolution enabled TV without having to replace the whole set. With increased processor speed, more functions and additional content, your TV will never be the same again.

Faster Speed - The powerful built-in processor will help boost performance to speed acccess to content and Smart TV features, as well as enhanced multitasking.

More Content - The Evolution Kit will expand the breadth and depth of your content choices. Tap into a broader range of new content without having to buy a new TV.

More Features - With the Evolution Kit, you will be able to enjoy Samsung's latest interactive features, so you can stay up-to-date with our latest technology while enjoying a better viewing experience.
* Evolution Kit sold separately. Not available for all TV models. Available in 2013. Performance and specifications may vary subject to hardware limitations.

Captivating 2D & 3D in Full HD 1080p
Whether you're watching in 2D or 3D, Samsung Full HD 1080p displays picture quality that's crisp, clear, and breathtakingly life-like. It's as close as you can get to the real thing. Put on the 3D glasses to immerse yourself in the picture — Samsung only uses Active shutter technology, which provides the experience of 3D in Full HD 1080p (when coupled with a 3D source such as a Samsung 3D Blu-ray player or a Full HD broadcast from satellite or cable providers). You can also convert 2D viewing to 3D, so you can watch sports, TV shows, and all your favorite programming in immersive 3D.

Dual Core
Samsung's Dual Core's processing speeds allow you to perform multiple tasks at the same time, such as using an app while downloading another one. It also enables faster web browsing while playing apps or TV programs that you've recently opened through the Recent

History feature.
Full HD 1080p Resolution
The realistic detail of Full HD images invites you to enjoy a viewing experience that redefines
reality.

Clear Motion Rate of 800
Experience sharp picture quality, even when you are watching fast-moving images like sports or action movies. Clear Motion Rate was developed to accurately measure how well a LCD or LED TV can depict fast-moving images. Previously, motion-clarity was calculated by the frame refresh rate alone. But CMR offers a more complete measure by calculating 3 factors: frame refresh rate, image processor speed and backlight technology. A CMR of 800 is the ultimate level of motion-clarity. LED TVs with this CMR can display action-packed movement with optimal sharpness, clarity and contrast.

Micro Dimming Ultimate
By maximizing the contrast between lights and darks, Samsung's Micro Dimming technology displays a picture that is as true-to-life as possible. Our innovative technology scans zones across the image and adjusts brightness to deliver deeper dark tones and brighter whites. It also eliminates the "halo" effect and image distortion that can happen with diffused lights. The Ultimate version of this technology optimizes the quality to new heights by scanning 2x the number of zones in the image. The result is a crystal-clear picture with realistic, vivid detail and accurate color reproduction.

Ultra Clear Panel
Sometimes you can't keep sunlight or house lights from shining right on your TV screen. With Samsung's Ultra Clear Panel, you can still get an amazing picture even with reflective light. Ultra Clear Panel absorbs most ambient light and virtually eliminates reflections. Ultra Clear Panel also helps make colors more vibrant with deeper blacks and enhanced contrast for crisper images and excellent shadow detail.

Wide Color Enhancer Plus
Wide Color Enhancer Plus allows you to see picture color the way the director originally intended. Witness the entire RGB spectrum brought to life on your screen to bring you exceptionally vibrant, yet natural-looking images faithful to the director's original intent.

Eco Sensor
Our unique Eco light sensor measures the intensity of the room's light and automatically calibrates the brightness of the image on the screen. In a sun- filled environment, the screen gets brighter and in dim surroundings, the intensity is reduced. This feature optimizes the viewing experience while also saving you energy.

AllShare Play
Enjoy your favorite digital content from any of your DLNA-connected Samsung Devices. Whether it's your music library on your PC, videos on your Smart TV, or photos on your Smart phone — AllShare Play lets you wirelessly access and share that content between your Samsung devices regardless of where you are. And there's no need for any cables or connecting devices. AllShare Play is also equipped with Cloud technology, so you can upload your favorite content to a central web storage account and access it wherever you are.

Skype™ on Your TV
Skype™ on your TV lets you make video calls from the comfort of your living room. Using the TV's remote control, you can create free Skype accounts, log into existing accounts and navigate via a simple Skype interface made for the big screen. Do a better job staying in touch with friends and family almost anywhere in the world. Calls to other Skype users are often free.

Built-in Wi-Fi
With built-in Wi-Fi, no additional equipment is needed to connect with an existing wireless router in your home network and start accessing Samsung Apps or other Smart TV features.

ConnectShare™ Movie
ConnectShare™ Movie lets you watch videos, play music or view photos from a USB connection without needing to use a PC or special equipment. Simply plug your USB device or drive directly into your Samsung TV's USB port and watch on the big screen with friends and family.

Anynet+™ (HDMI-CEC)
With Samsung's Anynet+™ you'll enjoy one-touch control for all your Samsung HDMI-connected compatible devices like your Samsung TV, Blu-ray Disc player, AV Receiver and Home Theater.
Tehnical specifications for TV Samsung UE-40ES8000
Producer URL: http://www.samsung.com/ro/consumer/tv-audio-video/televisions/led-tv/UE40ES8000SXXH
Diagonala (inch):
40
Tehnologie ecran:
LED
Diagonala:
102
Raport imagine:
16:9
Functie 3D:
Da
Rezolutie:
1920x1080
Sunet:
3D Sound available
Dolby Digital Plus / Dolby Pulse
DNSe
Dts 2.0+Digital Out available
10W x 2 Sound Output (RMS)
Down Firing + Full Range
Auto Volume Leveler
Alte caracteristici:
Dual-Core
3D FullHD
Wide Colour Enhancer Plus
Ultra Clear Panel available
Digital Noise Filter available
800 Clear Motion Rate
Micro Dimming Ultimate
Camera Built-in available
Face recognition available
Motion control available
Voice Control (Embedded) available
Voice Control (Server) available
Camera App available
Light Effect (Deco) available
Samsung TV Apps supported
Personal Video Recorder Ready available
Time Shift Ready available
ConnectShare™ Movie (HDD)
Smart Phone Remote supported
BD Wise available
Game Mode available
Anynet+ (HDMI-CEC) available
Picture-In-Picture available
29 European Languages
Allshare (Powered by DLNA) available
AllShare Play available
Samsung SMART View available
WiFi Direct available
Samsung SMART TV available
Family Story available
Search All available
Fitness available
Kids available
Skype™ on Samsung TV available
Smart Hub available
Social TV available
Web Browser available
Your Video available
2 x 3D Glasses included
Smart Touch Control included
Greutate:
Fara stand: 9.5kg
Cu stand: 11.8kg
Pachet : 14.7kg
Dimensiuni:
Fara stand: 906.3 x 540.1 x 30.8
Cu stand : 906.3 x 571.3 x 176mm
Dimensiune ambalaj:
1014 x 656 x 220mm
Acest produs poate avea şi următoarele denumiri:
UE40ES8000, UE 40ES8000
ACCESORII SI PRODUSE COMPLEMENTARE
REVIEWS for TV Samsung UE-40ES8000
Mark
(5)
based on 1 reviews
Andrei Dragan la 09-02-2013 (17:01)
Unul dintre cele mai bune televizoare Smart TV de pe piata. Chiar nu am absolut nimic de reprosat acestui TV, are tot ce am nevoie si tot ce voi avea nevoie pentru urmatorii 5-6 ani.
DE CE SA ALEG AVSTORE.RO?
La AVstore.ro cumperi la preturi PROMO, poti plati in rate si ai livrare GRATUITA pentru comenzi peste 300RON in reteaua Fan Courier.
Vezi specificatii tehnice, review-uri si pareri despre TV Samsung UE-40ES8000 (REF19814).
Disclaimer: Echipa AVstore.ro încearcă să menţină acurateţea informaţiilor la TV Samsung UE-40ES8000 dar rareori acestea pot conţine mici inadvertenţe, ex: accesorii neincluse în preţ, specificaţii tehnice diferite, informaţii neactualizate despre preţ şi stoc. Ne poţi contacta oricând pentru a clarifica eventuale nelămuriri. Nu uita să menţionezi în corespondenţa ta numele exact al produsului - TV Samsung UE-40ES8000