Speakers Type: Boxe profesionale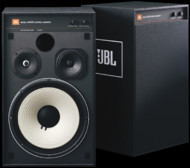 The JBL® 4312 E studio monitor is the direct descendent of the legendary Model 4320, the original JBL monitor that forever changed audio recording, introduced in 1968. As you would expect of a true JBL studio monitor, the 4312 E delivers crisp, powerful bass at all listening levels with a massive 300mm (12-inch) woofer driven by a Differential Drive® (U.S. patent no. 5,748,760 and other patents pending) dual 75mm (3-inch) voice-coil assembly. A 125mm (5-inch) pure-pulp cone and 25mm (1-inch) copper voice coil with Kapton® bobbin realistically reproduce the full dynamics of vocal performances with low distortion, even at the highest listening levels. A 25mm (1-inch) tweeter with a magnesium/aluminium alloy dome extends HF response far beyond the audible range of the humanear. Built in mirror-image pairs to create the detailed, coherent stereo soundstage that studio monitors must, the JBL 4312 E exceeds the expectations of critical listeners and music professionals alike, providing a listening experience of such richness and subtlety that it cannot be compared to anything but a live performance.
---
---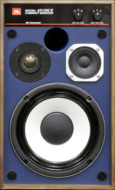 Downsized to desktop. The JBL 4312M II delivers the legendary JBL studio sound to audio enthusiasts with limited listening space. With a tempered pure titanium dome and white pure pulp cone with pleated cloth surround, the 3-way compact monitor loudspeaker has been reworked from the previous version with new drive elements and a dividing network and enclosure to dramatically improve power, clarity and efficiency. Magnetically shielded, the speaker won't distort your TV picture, so set it anywhere and enjoy your music or blast the sound from your favourite films. Innovative cabinet construction techniques increase internal volume for superior bass performance. A walnut lacquer veneer cabinet with "monitor blue" baffle and grille imbues a rugged, professional look for the new speaker, which provides classic JBL studio monitor performance to music and movie lovers.
---
---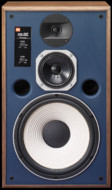 Professional sound comes in a medium-sized package. Taking up less room, the JBL® 4307 retains the performance of full-size JBL studio monitors. You can tailor the speaker's performance to suit your personal taste, so when packing party friends into your apartment or living room there will be plenty of space to dance to the driving beats thundering from this rugged, professional-looking three-way control monitor. Featuring a 250mm (10") cone woofer, a 125mm (5") cone midrange driver and 38mm (1-1/2") high-frequency driver, the newly minted loudspeaker re-creates music with the power, dynamics and accuracy the JBL brand has delivered to audio virtuosos for over 50 years.
---
---