24

reducere
Indisponibil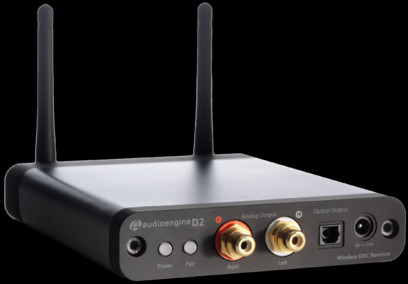 DAC Audioengine D2

ATENŢIE: Produsul DAC Audioengine D2 nu mai este disponibil la AVstore.ro.
Acest lucru se datorează de cele mai multe ori faptului că producătorul Audioengine a încetat să mai fabrice acest model sau l-a înlocuit cu unul mai performant.
Prezentare generala DAC Audioengine D2
Audioengine D2 Premium 24-bit Wireless DAC
Audioengine D2 Premium 24-bit Wireless DAC allows you to stream wireless HD audio from your computer to any music system, independent of your Wi-Fi network. D2 includes USB and optical inputs, a high-performance DAC, plus the isolation benefits of wireless. Setup is fast and simple, with no software to install and without the frustration of trying to connect to your network.

Game-Changing Computer Audio
The D2 offers audio fidelity and features of DACs costing several times more, but with one very important feature - it's wireless! D2 is a simple to use yet powerful digital-to-analog converter with performance and features generally found in much more expensive DACs. The D2 processes digital audio at any bit depth up to 24 bits and sample rates to 192KHz, then sends your music over-the-air at 24/96. It accepts USB or PCM-stereo optical and will automatically configure to match either of these inputs.

Easy Setup and Simple Operation
Bypass your computer's sound card or headphone jack and send wireless HD audio to any music system. D2 transmits all music file formats from any computer media player and can simultaneously transmit HD audio to up to 3 wireless receivers. The 100ft (30m) typical range, low latency, built-in DAC, and resistance to interference and dropouts makes D2 the best-sounding HD wireless system available.

Versatile
The D2 is actually three products in one - a high-quality USB wireless computer DAC, a wireless USB-to-SPDIF converter, and a wireless optical PCM-to-stereo link. The ability to stream HD audio wirelessly from your computer direct to your music system not only keeps your computer away from your audio gear, but also minimizes nagging problems such as ground loops, induced cable noise, and jitter. And if you already have a favorite DAC, the D2 can provide bit-perfect wireless USB-to-SPDIF conversion or serve as a wireless link for your PCM-stereo stream.

Join the Computer Audio Revolution
The D2 sends a 24bit/96KHz PCM stereo digital stream over-the-air in a "closed-system" Wi-Fi configuration. The system's proprietary RF technology ensures data integrity with no impact on existing routers or networks. The volume control on the D2 Sender is transmitted over an entirely separate channel so there is no impact on the digital audio stream.

See and Hear the Difference
Audioengine designers, with their attention to audio quality as well as visual aesthetics, have created a feast for both the eyes and ears. The rounded anodized aluminum case of the D2 reflects traditional Audioengine design and the audio fidelity is typical of Audioengine's commitment to great sound at an affordable price. The Audioengine D2 continues to close the gap between your computer music and home hi-fi and even if you're not an audio enthusiast we guarantee your music will sound better!
Specificatii tehnice pentru DAC Audioengine D2
Link producator: http://audioengineusa.com/Store/Digital-Audio-Converters/D2-24-Bit-Wireless-DAC
Alte caracteristici:
DAC type: Dual Mode USB and Optical (SPDIF) wireless DAC
Inputs: USB/Optical (SPDIF)
Outputs: RCA Stereo/Optical (SPDIF)
D/A converter: PCM1792A
Optical receiver: AK4117
USB controller: TI1020B
Full-scale output: 2.0V RMS
Output impedance: 100 ohms
Power source: Sender: USB 5V or included external supply / Receiver: Included external supply
Power requirements: Sender: 270mA, 5V / Receiver: 300mA, 5V
USB power filtering: 3-stage redundant regulation
SNR: (DC to 20 kHz) >115dB
THD+N: (1kHz FS 96kS/s) <0.0015%
Crosstalk: <-85db
Frequency response: 10Hz-30KHz (+/- 0.5dB)
Input bit depth: 24 bit (upsampled)
Input data rate: 96kHz - native playback / 44.1kHz, 48kHz, 188.2kHz, 192kHz - re-sampled to 96kHz for playback
USB device class: type 1.1 or above
Wireless range (typical): >100ft
Latency: <20ms
Receivers supported: Up to 3
Dimensiuni:
Product dimensions: 12.065 x 13.97 x 2.54 cm
Greutate:
Shipping weight: 2 Kg
THD:
<0.0015% (1kHz FS 96kS/s)
Acest produs poate avea şi următoarele denumiri:
DAC Audio Engine D2 24-bit, Audioengine D2, Audioengine 2
REVIEW-URI PENTRU DAC Audioengine D2
Momentan produsul DAC Audioengine D2 nu are nici un comentariu din partea utilizatorilor. Fii tu primul care adauga un comentariu.
DE CE SA ALEG AVSTORE.RO?
La AVstore.ro cumperi la preturi PROMO, poti plati in rate si ai livrare GRATUITA pentru comenzi peste 300RON in reteaua Fan Courier.
Vezi specificatii tehnice, review-uri si pareri despre DAC Audioengine D2 (ref.28915).
Disclaimer: Echipa AVstore.ro încearcă să menţină acurateţea informaţiilor la DAC Audioengine D2 dar rareori acestea pot conţine mici inadvertenţe, ex: accesorii neincluse în preţ, specificaţii tehnice diferite, informaţii neactualizate despre preţ şi stoc. Ne poţi contacta oricând pentru a clarifica eventuale nelămuriri. Nu uita să menţionezi în corespondenţa ta numele exact al produsului - DAC Audioengine D2