Discount FABULOS
Indisponibil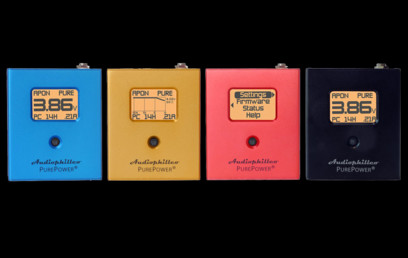 Audiophilleo 2 + PurePower

ATENŢIE: Produsul Audiophilleo 2 + PurePower nu mai este disponibil la AVstore.ro.
Acest lucru se datorează de cele mai multe ori faptului că producătorul Audiophilleo a încetat să mai fabrice acest model sau l-a înlocuit cu unul mai performant.
For those who prefer a minimalist approach, the Audiophilleo2 USB- S/PDIF transport delivers all the key performance benefits of the Audiophilleo1. The sound is the same, but in a less feature-rich, less expensive package!
Prezentare generala Audiophilleo 2 + PurePower
For those who prefer a minimalist approach, the Audiophilleo2 USB- S/PDIF transport delivers all the key performance benefits of the Audiophilleo1. The sound is the same, but in a less feature-rich, less expensive package!

Achieve the highest possible analog-like performance with the PurePower option. At the price point, the Audiophilleo2 with PurePower is simply the best sounding source for your money. Virtually no high frequency noise from your PC can make it into your DAC because there is no electrical connection between the two. You get more bang for the buck than with expensive USB cables, other external power supplies, or any other source!
Like the Audiophilleo1, the "2" also eliminates jitter artifacts and extracts the maximum sonic performance from your system. Why even get started with less capable devices? They may be priced a little lower, but there's a reason: They'll eventually end up in a drawer.
The Audiophilleo2 works with just about any system: You can control the volume from the host music server, an iPad, "downstream" DACs with attentuators, preamps, receiver or integrated amps - even a Logitech Squeezebox Touch.
Just a few minutes of listening will convince you that the Audiophilleo2 is what your system needs to sound its best.

Audiophilleo1 DNA

Direct connection to any DAC without an expensive S/PDIF cable
Runs with standard USB drivers on Mac, Windows and Linux computers—even latest iPads
Up to 192 kHz/24 bit playback (free Windows Vista/7 driver update included)
Add new features in minutes with firmware updates
Ramped muting is gentle on the ears, 'phones, amps and speakers
Always-on S/PDIF output cuts the clicks between tracks
USB powered for easy installation
Multi-function LED reports on "health" and status
DSD64 supported via DoP
Compact and ergonomic: You can take it with you
Any color you want, as long as it's a dark, metallic gray
And the same three-year limited Warranty as the Audiophilleo1

Superior technology

Ultra-low jitter SPDIF output, 2.6 ps RMS phase jitter 10 Hz to 100 kHz
Asynchronous USB transfer
Unique regenerative power supply isolates all critical components from computer power supply noise
No compromise fixed-frequency clocks minimize jitter at all sample rates
Fully differential ECL transformer-free output stage
Custom-machined solid aluminum case cuts electrical noise and vibration
Environment-friendly RoHS compliance
The Audiophileo2 has the same built-from-scratch, custom-hardware and software DNA as the Audiophilleo1, for only $579 including free USPS Priority Mail shipping (US and Canada only).
Once again, we invite you to compare it to the competition and Try one out at home for 30 days, risk-free. Your system will sound better than ever before!

Power matters

Audiophilleo's PurePower VLN (very low noise) Digital Power Pack is an optional battery based power supply for the Audiophilleo1 and Audiophilleo2 transports and transforms our reference-grade transports to deliver new levels of sonic realism, presence, soundstaging and dynamics. From entry-level gear to high-end systems, audio enthusiasts everywhere will appreciate how PurePower makes the background grit and grunge disappear, imparting and analog-like sound that lets the music carry you away. Just have a look at the reviews - the PurePower makes an impact bigger than any cables or alternative power supplies do.
Much of what you don't like about "digital" ultimately relates to electromagnetic noise in all its various forms. Computers, appliances, mobile phones, TVs—just about everything in the modern world that runs on electricity—create an abundance of random and patterned noise. This electronic "hash" travels through the air, household and system wiring to wreak havoc on even the best audio electronics. Noise gremlins are everywhere, making life difficult for sensitive clocks, DACs, and analog circuits. The PurePower provides the ultimate in clean power to those ciscuits that matter: the output stage and clocks. It makes Audiophilleo1 and Audiophilleo2 sound quality highly independent of computer source and USB cable used. Don't invest in partial solutions like expensive USB cables or PCI USB cards. The PurePower is THE solution to get the absolute best sound from any computer.
All existing Audiophilleo1 and Audiophilleo2 units can be upgraded with the PurePower option. Note that units have to be sent back to Audiophilleo for the PurePower upgrade because it involves considerable internal changes. Also new units may be ordered with the PurePower option already included. Either way, the Audiophilleo 1 and 2 units are modified with an additional power connector which feeds the SPDIF output stage from the PurePower. This modification requires that this power connector is fed with 3.3V to 5V, so the PurePower will be required for normal operation. In return, absolutely no high frequency noise from your PC can make it into your DAC because there is no electrical connection between the two.

The best features

Switch-free, automatic operation. You never have to fuss with cables or toggle switches to get the cleanest power and best sound.
Optimized for Audiophileo1 and 2. It powers only the sensitive clocks and output stage through an additional power connector, providing the lowest possible noise. The USB ARM processor continues to be powered from USB. Sound quality becomes very independent of PC, media player, and USB cable because no high frequency noise can get into your clocks or DAC.
Automatic recharging when not playing music. It senses when the Audiophilleo1 or Audiophilleo2 are not playing music and starts charging.
Unlimited play time with normal use. Battery lasts for 15 hours of continuous play, after which battery charging and Audiophilleo are powered from USB. When not playing music, battery automatically charges so that it is full for the next listening session.
Total isolation from USB power, gound, and data. When running off battery, relays are used to physically disconnect the PurePower from the noisy USB power source (the PC) so that lowest possible power noise levels are achieved when feeding the Audiophilleo1 and Audiophilleo2 output stages.
No noisy wall wart or switching power supply required - plugs into your computer or an optional USB power source
Audiophilleo1/2 USB can plug directly into computer or feed through the PurePower.
Large dimmable LCD display and joystick with real-time display of power and play time
Firmware updating for enhancements
Custom cabling set. Everything you need is in the box.
User-replaceable lipoly battery pack will give years of service. Replacement pack to be sold separately at reasonable cost. Third party lipoly batteries can also be used.
Compact size
Best price-performance

Unique synergy

Every Audiophilleo USB-S/PDIF transport contains two independent modules:
Module1: ARM RISC processor and USB interface, powered by the computer
Module2: Ultra-low jitter clocks and S/PDIF output stage, powered by the PurePower
Module2 is galvanically isolated from Module1. Ground and power are completely separate so that zero noise creeps from the PC to your DAC. The PurePower physically disconnects itself from the USB bus so that it makes zero contribution to the power noise in Module2 and your DAC. No high frequency noise can bleed into your DAC to conjest your sound. Even the PurePower circuitry enters a zero-noise state for absolutely zero noise pollution. The result is analog-like smooth sound with unbelievable detail, black background, and great sound stage and separation.
REVIEW-URI PENTRU Audiophilleo 2 + PurePower
Nota
(5)
bazata pe 2 aprecieri
Desi are un pret ridicat, daca aveti un sistem pretentios merita investitia. Am ramas surprins inca de la primele ore de utilizare de tonalitatea calda, analogica, care se remarca prin separarea instrumentelor si un timing mult mai bun. Il folosesc cu un Hegel H80 + Audio Physic Sitara 25 plus+. Surse Flac si Tidal hi-fi (masters). Recomand cu incredere.
L-am cumparat ca alternativa la deja excelentul HiFace EVO (varianta stack completa).Fata de acesta,Audiophileo aduce un plus semnificativ de rezolutie si detaliu, este mult mai neutru raportat la aparentul caracter eufonic si relaxat al lui EVO oferind o scena mai larga cu o separatie excelenta a instrumentelor si vocilor.Personal il consider o alegere mai buna intrucat are si avantajul unei ergonomii mult mai bune(un singur aparat fata de trei in cazul EVO) si o autonomie excelenta, testata de mine la aproximativ 8 ore.
DE CE SA ALEG AVSTORE.RO?
La AVstore.ro cumperi la preturi PROMO, poti plati in rate si ai livrare GRATUITA pentru comenzi peste 300RON in reteaua Fan Courier.
Vezi specificatii tehnice, review-uri si pareri despre Audiophilleo 2 + PurePower (ref.26841).
Disclaimer: Echipa AVstore.ro încearcă să menţină acurateţea informaţiilor la Audiophilleo 2 + PurePower dar rareori acestea pot conţine mici inadvertenţe, ex: accesorii neincluse în preţ, specificaţii tehnice diferite, informaţii neactualizate despre preţ şi stoc. Ne poţi contacta oricând pentru a clarifica eventuale nelămuriri. Nu uita să menţionezi în corespondenţa ta numele exact al produsului - Audiophilleo 2 + PurePower