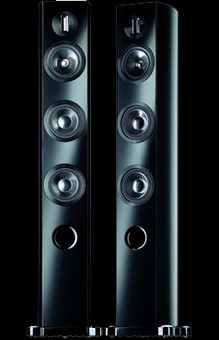 Cod produs: S81K
Pret:
10.150
RON
/Pereche
Prezentare generala Boxe Pioneer S-81-K
For the audiophile in you.

Sound. It's at the very centre of our emotions. Even when it is not consciously perceptible, sound moves us.

Our legacy began in the speaker business 75 years ago. We've been designing and building speakers based on a single mantra: reproduce audio as true to the original as possible. Our designers were (and are) audiophiles: people addicted to pure, perfect audio reproduction.

The thing is, when you hear pure, accurate audio reproduction for yourself, you'll never go back. You'll become addicted. Because inside of you, you'll find that you're an audiophile, too. That's the power of pure sound.

Matching the blueprint of our EX Series Reference Speakers, the Series 8 Speaker tweeter is mounted in the centre of the midrange driver, allowing the sound directivity to be precisely controlled at all frequencies. What this means is that all sound –arrives at your listening position at the same time.

The Series 8 Speakers feature LDMC (Linear Drive Magnetic Circuit) that ensures an extremely linear displacement of the woofer cones. The result is a perfect reproduction of low frequencies without any distortion.

Vertical standing waves that often occur in these large floor-standing speaker enclosures are responsible for uneven, boomy or sucked out bass response. To eliminate these waves, we have developed unique ABD ( Acoustic Balance Drive) and AFAST (Acoustical Filter Assisted System Tuning) simulation technology, which results in precise and dynamic bass with no low midrange colouration.

The rounded cabinets of the Series 8 Speakers improve rigidity and work to eliminate unwanted sound from enclosure diffraction. Grills are attachable by magnets, giving you a clean, seamless look whichever option you choose.

As form follows function, the enclosures of the Series 8 Speakers are crafted from the finest materials and assembled with great attention to detail. The outcome is a round shaped cabinet that improves rigidity and helps to eliminate unwanted sound from enclosure diffraction. Its sophisticated lines - complemented by the high-gloss black, real whitewashed ash veneer or real walnut veneer finishes - make each loudspeaker an epitome of understated elegance and a welcome addition to any modern interior. The absence of pins or screws on the baffle board and newly developed magnetic grilles further add to the series' performance and clean appearance.
Specificatii tehnice pentru Boxe Pioneer S-81-K
Difuzoare:
Woofer 2 x 13cm Aramid cones

Midrange 13cm coaxial Aramid cone

Tweeter 2.5cm coaxial titanium dome with riffel-type super tweeter
Dimensiuni:
1190 x 267 x 280
Greutate:
25.8 kg
Impedanta nominala (EN 600065):
6 Ω
Putere dinamica:
130W
Raspuns in frecventa:
30 - 100,000 Hz
Sensibilitate (2,83V/1 m):
85,5 dB
REVIEW-URI PENTRU Boxe Pioneer S-81-K
Momentan produsul Boxe Pioneer S-81-K nu are nici un comentariu din partea utilizatorilor. Fii tu primul care adauga un comentariu.
DE CE SA ALEG AVSTORE.RO?
La AVstore.ro cumperi la preturi PROMO, poti plati in rate si ai livrare GRATUITA pentru comenzi peste 300RON in reteaua Fan Courier.
Vezi specificatii tehnice, review-uri si pareri despre Boxe Pioneer S-81-K (S81K).
Disclaimer: Echipa AVstore.ro încearcă să menţină acurateţea informaţiilor la Boxe Pioneer S-81-K dar rareori acestea pot conţine mici inadvertenţe, ex: accesorii neincluse în preţ, specificaţii tehnice diferite, informaţii neactualizate despre preţ şi stoc. Ne poţi contacta oricând pentru a clarifica eventuale nelămuriri. Nu uita să menţionezi în corespondenţa ta numele exact al produsului - Boxe Pioneer S-81-K