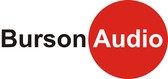 Amplificator casti Burson Conductor

ATENŢIE: Produsul Amplificator casti Burson Conductor nu mai este disponibil la AVstore.ro.
Acest lucru se datorează de cele mai multe ori faptului că producătorul Burson a încetat să mai fabrice acest model sau l-a înlocuit cu unul mai performant.
Prezentare generala Amplificator casti Burson Conductor
Headamp / Preamp / DAC
32bit 192K DAC (24 bit via USB)
4W PC Headphone amp
3 Level gain settings
Direct DAC output


An Uncompromising 3 In 1.

When we introduced the HA-160D in 2010, it was met with initial skepticism. Many questioned our approach of combining three main functions; DAC, Preamp and Headphone amp into a small and elegant enclosure. Many were certain that something had to give and one if not all of those functions must be secondary and hence compromised.

The chief editor of 6moons was the first to realize that such worries were unfounded and in fact, each of those three functions were world class and competitive with the single function machines in their individual categories, which were much larger in size and more expensive in price. Furthermore, without the need to cable or equipment match three separate components, the HA-160D put music enjoyment back squarely into focus. It was initially honored with a Blue Moon award with many other recognitions to follow. More importantly it was embraced by audiophiles as a benchmark performer of the time.

We have now pushed our uncompromising 3 in 1 concept to a whole new level. And we have named it The Conductor.

The DAC

At the heart of our DAC is the ESS SABRE32 Reference DAC chip. With patented 32-bit Hyper-stream DAC architecture and Time Domain Jitter Eliminator technology, the SABRE32 is one of the best and most expensive DAC chips in the world and is truly reference class .

While we are not the first, nor the only, company to use the impressive SABRE32, we are unique in refusing to use IC based building blocks anywhere in our circuitry. Instead, we aimed to unleash the full potential of this chip through the development of tailor designed circuitry. We did not even use our own award-winning discrete circuitry featured in the HA-160D. No, that circuitry was designed and optimised for another DAC chip. We started from scratch and developed a new circuit that is specific to the SABRE32. And the result is a true representation of what it can do when pushed by team Burson.

The Headphone Amplifier

The Conductor also features our well regarded Soloist Headphone Amplifier. We had to deploy another 35W customised transformer to ensure that the Soloist circuitry is independent and optimised at all times. This is to ensure that its performance is exactly the same as the standalone Soloist.

The High Performance Preamp

The Conductor is not your average headphone amp with an added preamp function. We did not simply solder a piece of wire from the headphone output jack to create an unrefined preamp. Instead the preamp output has been extracted from the voltage gain stage before the current gain section, to create a preamp that reflects the full potential of our FET output stage, and our less is more philosophy. Coupled with the VOS, both performance and versatility are uncompromising.
Connectivity

On the digital front, the Conductor features a 24bit/192khz Tenor TE8802 USB receiver working in Asynchronous Transfer Mode. It also accepts coaxial and Toslink inputs supporting 32bit/192khz audio files. On the analogue front, it accepts analogue input via RCA and outputs in 6.35mm headphone jack, line-level output (DAC) and variable output (preamp). With such versatility, the new conductor works perfectly with any audio system.

Design FeaturesSpecificationsPhoto GalleryDownloadsBuy Now
The Conductor features a new Variable Output Stage (VOS). It enables the Conductor to match well with any type of headphone. Be it easy to drive high sensitivity in ear monitors or open back moving-coil designs. It can drive anything including the latest planar magnetic headphones with ease.

Combining the VOS with our new generation of step attenuator, volume control is always smooth and synergy is always perfect.

At the time when an audio signal is passing through the volume control, it is still at its weakest. At this stage, the audio signal is very vulnerable to noise pollution and interference. A major source of such distortion is the commonly used remote volume control adopted by most manufactures.


An athlete needs clean air to perform at an optimum standard – audio equipment needs clean power to reproduce transparent and natural music.

The new Conductor has taken the already fanatical IC free power supply of our first generation HA-160 to the next level. The result is even cleaner even more energetic music reproduction.


The Conductor is housed in a 6mm case, constructed from high precision machined aluminium. This enclosure allows the Conductor, to achieve a very high mechanical damping factor, which reduces any microphonic effects, that may degrade the clarity of sonic performance.

The enclosure was also constructed to act as a giant heat-sink, which allows the Class-A headamp to run cooler, and remain optimised at all times.


Listening Impression

The Conductor was designed to be the centerpiece of any audio setup. Not only does it harmonize with any preamp, power amp, headphone or computer, but it goes further by unleashing the hidden potentials in each, and unifying them to work as one. In terms of sonic signature, the Conductor is consistent to our core philosophy, that the less the equipment tampers with the music, the greater the music becomes.

Beethoven's Symphony No. 6 by Herbert Karajan and his beloved Berliner Philharmoniker in 1963 was magnificently reproduced. The old-fashioned perfectionist was conservative and faithful to the composer. He funneled the absolute best of all those musicians into a unified musical expression that is an embodiment of beauty. Everything happened so naturally as one note followed another, and then combined to fill with the energy and power of life. Karajan's Pastoral was not only heard by ears but felt deep inside. He didn't just paint a majestic landscape or take us on a scenic tour of rural Austria.. No! The great conductor led us on the same epic, emotional journey once embarked upon by the composer himself. We felt Beethoven's wounded soul yearning for peace from the pain of deteriorating hearing. The small solace found when returned to his beloved pastoral home. His fury against fate, and, like a swallow in the eye of a storm, his attempt to comprehend all the violence and cruelty everywhere and his cries for mercy. Then suddenly, as if his prayers were answered, he saw only beauty and realized that all was well intended and all will be good. We felt his jubilation at renewed faith and his determination to reach new heights. While the notes can end, the music lasts forever. The heart, as the composers once was, is overwhelmed with gratitude.
REVIEW-URI PENTRU Amplificator casti Burson Conductor
Momentan produsul Amplificator casti Burson Conductor nu are nici un comentariu din partea utilizatorilor. Fii tu primul care adauga un comentariu.
DE CE SA ALEG AVSTORE.RO?
La AVstore.ro cumperi la preturi PROMO, poti plati in rate si ai livrare GRATUITA pentru comenzi peste 300RON in reteaua Fan Courier.
Vezi specificatii tehnice, review-uri si pareri despre Amplificator casti Burson Conductor (REF21478).
Disclaimer: Echipa AVstore.ro încearcă să menţină acurateţea informaţiilor la Amplificator casti Burson Conductor dar rareori acestea pot conţine mici inadvertenţe, ex: accesorii neincluse în preţ, specificaţii tehnice diferite, informaţii neactualizate despre preţ şi stoc. Ne poţi contacta oricând pentru a clarifica eventuale nelămuriri. Nu uita să menţionezi în corespondenţa ta numele exact al produsului - Amplificator casti Burson Conductor